Top Tips from Twin Pines Recruitment
So your job searching and you're probably aware that you are one of the 2.5 million people currently out of work in the UK then you are also probably all too aware of how frustrating it is to be job hunting. However, it is possible to make small changes your CV or job searches to help increase your chances of find that perfect job.
At Twin Pines Recruitment we have put together a few top tips and changes to make that can help you jump to the front of the job hunting line.
Take The Initiative
Don't wait for the perfect job to be advertised, take the time to create a list of businesses that might have relevant positions for your skills. Send your CV along with a covering letter directly to the HR team.
Top Tip: Make sure you highlight how your skills are relevant to their business and show you have done your research. Many businesses will be impressed that you have taken the time out to directly approach them – it shows your commitment.
Be Different
Think about ways to stand out from the crowd when contacting businesses or going for interviews. Show your initiative by researching the businesses values and current movements.
Top Tip: Try not to be too out there, just show your eagerness to join their team by an understanding of the industry. Just remember to be yourself, if you do make it to the interview stage they often want to get to know you more. The biggest question will be: "can I work with this person?"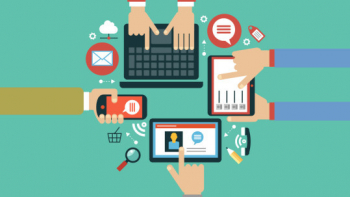 Your Online Profile
Depending on the kind of work you're looking for, there's a good chance that a potential employer will use the internet to assess whether you are a suitable candidate.
For that reason, it's worth doing your own search to see what comes up. If that drunken night on holiday pops up, maybe you need to think about making your profile more private. It's a laugh for you and all your friends, but potential employers don't know who you are yet and particular pictures and comments can send the wrong message.
That said - if you're not on LinkedIn, you very nearly don't exist! Especially if you consider that more than 90% of businesses use LinkedIn as their primary search tool. If you're a professional, you need to not only be on LinkedIn, you need to be using it to your full advantage. LinkedIn is a great way to show-off your professional ability and skills through making connections and posting.
By keeping your personal life private but proudly showing your professional skills you will show your initiative and values, which will be highly favoured.
Don't Limit Yourself to Online Applications
If you want the job hunting to go on forever, then continue to rely solely on submitting online applications. But if you want to get going and find that perfect position, make sure you don't stop once you applied online for that position.  Approach an internal recruiter and ask a few questions. Get on the radar of the very people who might influence you getting an interview. Take not of our first top tip!
Join a recruitment company, they are there to build the bridges between employer and potential employee. They work hard to match skills to the right job role, just like the team at Twin Pines Recruitment. 
We have a wide range of job roles suitable for all skills. If you think Twin Pines Recruitment can help you, get in touch today - 01543 478779 or visit the website to register your details.