Spoke in September, 2020
9th September 2020
... Comments
---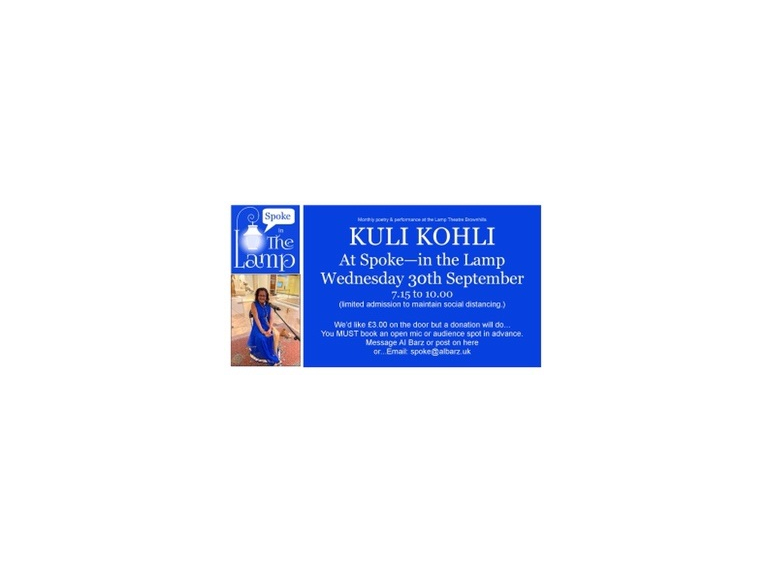 Following the success of August's Spoke, and keeping our precautions and proportions, we now bring you September's Spoke. A chance to peg your writings to the waves of air at Brownhills Community Centre on the last Wednesday, in fact the last day, of September. 
Or just come and be entertained by some of the West Midlands' fine creative writers 
7:30 to 10:00 pm - please book in advance for a slot to read and/or a seat to listen. We're limiting numbers to avoid overcrowding.

THEMES: Hope and Cope

HEADLINER: Kuli Kohli 

Kuli describes herself as a creative writer, poet, wife, mother of 3 and full time council worker with a wobbly body and full spirit.
Born with mild cerebral palsy in northern India, her family moved to England at an early age and Kuli found a lifelong passion for writing which has opened up all sorts of possibilities, making her life richer and more rewarding.
Recently interviewed on BBC Radio 4's 'Tongue and Talk', you can find out more about Kuli here:
https://www.bbc.co.uk/news/stories-53749629?fbclid=IwAR3Tfjw6MsqGA-mPlbFno2Wu0M2gC5r3gmXn60pHIR-Wyblkgju8RGgUoHM

The NEW NORMAL for Spoke:m
The Lamp theatre space is big enough and airy enough for two-metre distancing at 'separate tables'. The watchword is SAFETY - yours and ours. A risk assessment has been carried out thanks to Janet Davies and Martin Hughes. Masks may be worn and hand sanitiser is available at the door.

***You MUST book an open mic or audience spot in advance.*** PLEASE!!
Message Al Barz on Facebook or...
Email: spoke@albarz.uk
(We are limiting numbers to maintain social distancing.)
***Come with your own mask if possible.***
(We'll have disposable ones to spare if you have any difficulty.)
***Please use the hand sanitiser which will be there for everyone to use on entry.***
***If you are ill, or have any dodgy symptoms, let us know and DO NOT COME!***
Entry - pay as you feel. (We'd like £3  but whatever you can.)
*Free* teas/coffees! Other drinks available at the bar.
Raffle with great prizes to be won for lucky 50p tickets.
Poetry books may be available to purchase from performers.

Contact: spoke@albarz.uk 
Facebook Page: Spoke - in the Lamp
(Like the Facebook Page and you'll see future events as they occur!)


The Lamp, Brownhills Community Centre
Chester Road North, Brownhills, Walsall, WS8 7JW, GB 
Entry to car park from Pelsall Road, by the Miner Island.