Skirting 4 U take on an Interior Design Challenge
Watch Lola and the Skirting 4 U Walsall team complete an exciting Interior Design Challenge. This series of challenges follow the team designing and creating a room based on three elements:
1. Room Design
2. Room Type
3. 

Wildcard
The first challenge (Episode 1) consists of Scandinavian Design, Spare Room and the 
wild card
 item is Maps. 
About Scandinavian Interior Design
Scandinavian Design has been increasingly popular in recent years, particularly featured on Instagram where many interior and homeware fans seek inspiration for their own homes and projects.
Scandinavian Design focuses on three main elements: minimalism, simplicity, and functionality. The interior trend is based around muted colour palletes, a mix of cosy textiles, statement monochrome accessories and natural wood and greenery. See the photos below for some typical Scandinavian style interiors. 
It is very rare to find carpets in Nordic and Scandinavian style interiors, for a truly authentic look and feel opting for light wooden floors is the way to go. To compliment this, the skirting boards chosen in the challenge were minimal and bright to create a calming and relaxed atmosphere, typical of Scandinavian design. 
The Final Look
The team completed the room transformation to include a variety of elements typical of Scandinavian interiors and design. As you can see from the below pictures, the fresh and modern appearance of the room creates a calming and zen atmosphere, ideal for relaxing and sleeping. Monochrome accessories have been used to create balance alongside cosy textiles in the form of rugs and cushions. This contrasts against the natural look of plants and wall art. The wildcard item maps has been subtly incorporated in pictures and wall art, making the room more interesting and inviting for whoever is staying in this lovely spare room.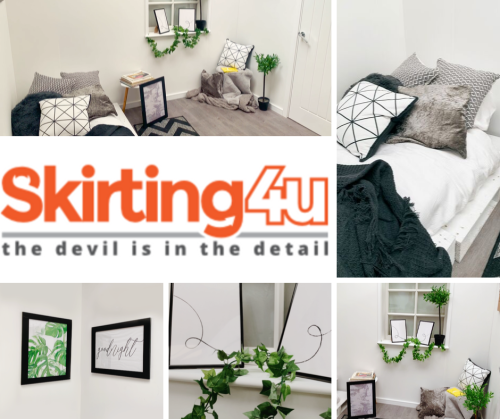 How to achieve the Scandinavian look 
Love this look? If you want to achieve the Scandinavian look in your home, it is important to have a bright and airy blank canvas to work with. Neutral or wooden flooring complimented by minimal and bright skirting boards is the best way to achieve this. Fresh skirting boards can transform your current flooring type to create that finished look. 
To view the full video click here. 
To find out more, read Skirting 4 U's own blog here. 
Contact Skirting 4 U, Walsall
If you are interested in new skirting boards for your home, call Skirting 4 U on 01922 451689. Alternatively, visit their website here.