RAF Air Cadet Remembrance Day Salute at Brownhills School
8th November 2019
... Comments
---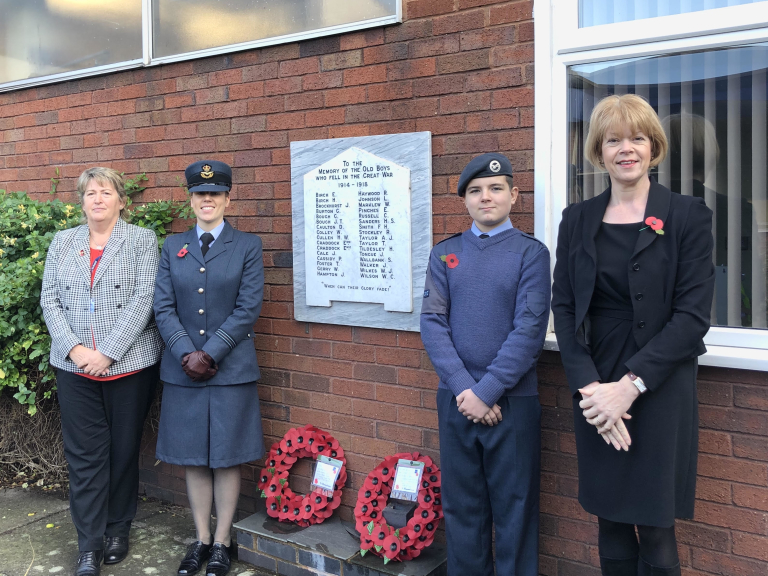 Headteacher of Brownhills School Mrs Helen Keenan welcomes Officer Commanding 425 (Aldridge) Squadron RAF Air Cadets, Flight Lieutenant Laura Horobin to the schools Remembrance Day service, today Friday 8 November 2019. Flight Lieutenant Horobin has been given the honour of accepting the official salute for Remembrance Day at Brownhills School, as they remember, acknowledge and commemorate the service men and women who sacrificed their lives for their communities and nation.  
  "It is a great honour and I was humbled to be asked to join the school today in remembering those who have fallen and support the School, Wendy Morton, Royal British Legion and cadet forces who attended'  " said Flight Lieutenant Horobin from 425 Squadron.  "I grew up locally and as the Squadrons commanding officer, believe that it is vitally important to put as much back into the community as possible.  The pupils of this school are our future and previous generations of men and women laid down their lives so that they could live in peace. This is the lesson that we all must learn for Remembrance Day".   At the 11th hour on the 11th day of the 11th month in 1918 the guns finally fell silent.  So many had died it was impossible to get accurate figures but it was estimated 17 million were killed and over 20 million were wounded.  President Woodrow Wilson in the USA called it "the war to end all wars".      
Many of the pupils are members of the RAF Air Cadets, Army Cadets and Fire Cadets. Today they wore their uniform to school to represent the armed forces and be a part of the schools Remembrance service. One  Cadet in particular Cdt Reece Follows is a pupil of Brownhills School and also a member of 425 (Aldridge) Squadron. Reece says "The poppy is worn as a reminder of all the people who had died, and I wear my cadet uniform with pride.  "It is a reminder that all people should help to create a world where men, women and children do not have to die in conflict.  The poppy is a symbol of peace."  
The commanding officer of 425 (Aldridge) Squadron RAF Air Cadets believes that when we have the 2 minute  silence at the 11th hour on the 11th day of the 11th month we should remember those who have died "and we should remember those who are still fighting for peace" she explained "and think of a world with no war and make a promise to do your best to achieve it.   
Photo pictured with Flight Lieutenant Horobin OC 425, Headteacher Mrs Helen Keenan, Cdt Reece Follows and Wendy Morton.   
If your son or daughter is interested in joining the cadet forces they can be found on the following links:   
Air Cadets    https://www.raf.mod.uk/aircadets/  
Army Cadets    https://armycadets.com/