Poets, Prattlers, & Pandemonialists Present Home & Away
11th October 2021
... Comments
---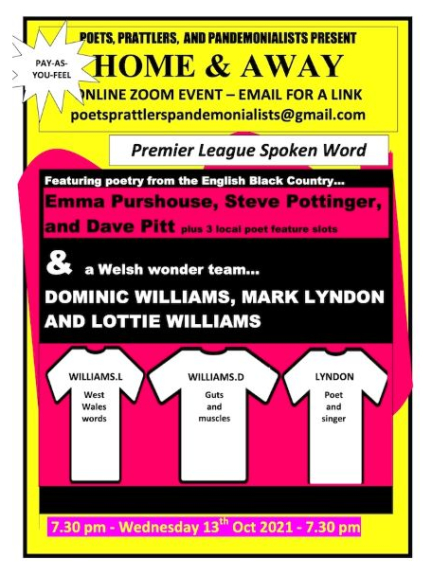 On Wednesday 13th October, Wolverhampton poetry collective Poets, Prattlers, and Pandemonialists will present another edition of their poetry event Home & Away. For those who don't know, this is a game of two halves, each of 45 minutes, featuring two teams of poets.
Wednesday's event will be online, and will be the final 'home nations' event, with a visiting team of poets from Wales (teams from Scotland and Northern Ireland have already taken part). The Welsh team is a trio of very talented poets: Dominic Williams, Mark Lyndon, and Lottie Williams. They'll share their work in the second half, while the first half will feature the three members of PPP with the considerable talents of Ann Atkins, Anne Babbs, and George Bastow in support.
This event will be pay-as-you-feel, with contributions going to pay the poets from Wales. To join the audience, just send PPP an email. They'll send out the Zoom link on the morning of the event.
info on the poets from Wales:
Dominic Williams is a poet, a performer and a creative collaborator he has performed at festivals in Sweden, Wales Ireland and the USA. He is the MC of West Wales most established spoken-word open-mic night Cerddi yn Cwrw and is one half of the improvised performance act Your Strangest Friend along with Swedish contemporary dancer Stina Nilsson. 
Lottie Williams is full time mum / part time MA Creative Writing student at Swansea University.  She has poetry and flash fiction published in magazines, and has taken part in Being Human festival, Coracle Europe Festival and Landed Festival 2021. The beauty of poetry and spoken word make her feel alive!
A retired teacher, Mark Lyndon is a performance poet and singer from Swansea who has read at myriad festivals. Mark is often inspired to write about his native South Wales. He has also published two books of his poetry and has had numerous pieces included in one British and two international anthologies.