New £1 Coin in circulation from 28th March 2017
17th March 2017
Author: Alex M
Comments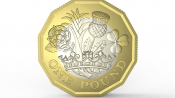 If you find an unfamiliar coin in your change after 28th March, don't be alarmed this could be one of the new £1 coins that come into circulation on this date
The new coin will feature the English Rose, the Welsh Leek, the Scottish thistle and the Northern Irish Shamrock. The old £1 coin which was first introduced in 1983 will cease to be legal tender on 15th October 2017.
The new £1 was designed by David Pearce, from Queen Mary's Grammar School, Walsall when he won a competition in 2014 to design the coin's new face – so definitely keeping the £ is Walsall!
If you are looking for events and great offers this spring in Walsall please click here to visit our business guide where you will find plenty of fantastic ways to keep the £1 in your pocket for longer!