Message from Willenhall History Society
4th February 2020
... Comments
---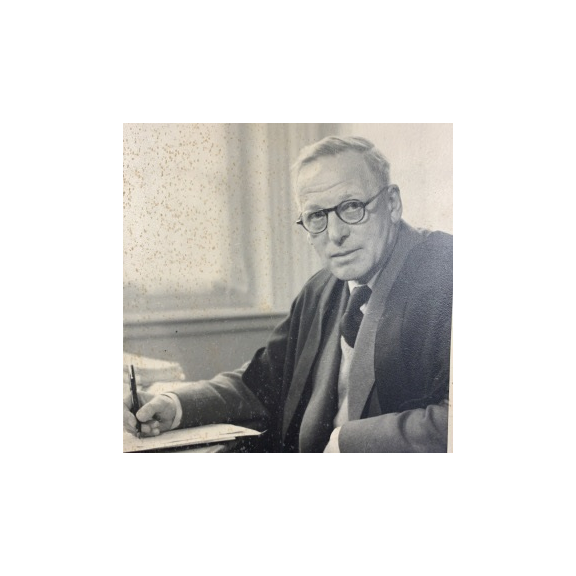 Hello again. Hope you are now well over the Xmas celebrations and actually sticking to your new year resolutions. Personally I don't make any so avoiding the possibility of feeling a failure. Now I did say last month that I would tell you about the contents of an old suitcase given to the society last summer by octogenarian Oliver Johnson who was kind enough to race down from Southport and deliver it to my door.




 

Initial examination of the contents provided a wealth of information on the Kingston family of Willenhall, mainly Harold Percival Kingston (pictured) who was born in 1895 and grew up in the family drapery shop at 26 Cross St. The business seems to have been started prior to 1871 by his grand-father Thomas Kingston and continued by Harry's father David but by 1934 the shop had passed into the hands of Robert Longstaff to expand his next door shop, whilst Harry had become a teacher.

 


  Harry was clearly a good scholar and by 1925 was awarded a B.A.Degree with honours at Birmingham University followed by an M.A. in 1932. He spent his whole career working at schools within our region including Queen Mary's Grammar School, Walsall, Bilston Central School, Bilston Technical College and two spells at Bilston Grammar School where he became headmaster for the last 6 years before retiring in 1955 at the age of 60 years. In the suitcase were all the many glowing references that he had acquired during his whole teaching career and having read them I think he must have been very proud of his achievements. Harry had married late in life to Moira Johnson and they had no children but sadly, having moved to Cornwall on retirement, he died 1 year later on the 15th.July,1956. Moira lived until she was 90 years, dying in 1994 and was laid to rest with Harry in  Porthleven.

 


 So now let us look in detail at the suitcase contents that show just what a talented researcher and scholar Harry was. It was during the 1920's that he wrote a lot of poetry having excelled at English Literature, being awarded the Bunce Prize and for 2 years running the Student Association Prize for Poetry. Within the suitcase was a considerable quantity of hand written poetry but the writing was virtually unreadable so I contacted the most obvious person to help me, this being local solicitor and poet Ian Henery. Ian was able to employ the services of a translator and within a short time came up with over 20 lovely poems written by Harry. Ian was impressed enough by Harry's work to pay for this service afterwards feeling Harry was inspired by the style of Thomas Hardy. Perhaps they may be published, who knows at present.

 


  As well as being a good poet Harry was also an accomplished water-colour artist with some of his work being displayed in local galleries and we have noticed in one of our scrapbooks that during an exhibition at Walsall Town Hall in 1971 one of his loaned paintings was stolen. This was of Neachells Farm on the Willenhall / Wednesfield border and measuring 11'' x 7''. If you have such a painting hanging on your lounge wall and would like to return it after 48 years absence then you can do so 'no questions asked' by leaving it at the CHART Centre, Gomer St, Willenhall, marked 'For the attention of Willenhall History Society.' Within the suitcase were a number of Harry's paintings that are now part of our archive.

 


  Next we find a large body of research by Harry leading to a 1932 publication of a study entitled 'The Wanderings of Charles II in Staffordshire and Shropshire' in which we find in details the Kings movements after loosing the Battle of Worcester in 1651 and seeking refuge with loyal supporters at Boscobell House, Moseley Old Hall and Bentley Hall leading to his final escape  from England. This work also covered the subsiquent ownership and history of Moseley Old Hall including an 1871 photo which are now in the possession of a delighted Fran Davis and her research team at the Hall as they now have information not previously known.

 


 Next we find a number of studies of well known local residents such as the Hinckes family, the Reverend William Moreton, The Albion Works and much more all of which require some study, perhaps leading to further article subjects. As well as these we have found odd documents dating back to the early 1800's such as apprentices endentures for 3 boys, Martin Brown, William Baggott and Richard Stringer. Several Buried Board receipts for plots in Willenhall Cemetery and an 1861 Registrar's Direction to enforce a parent to take a baby name George Thomas Stringer to a doctor to be vaccinated prior to being 3 months old. The order does not say what the vaccination is to prevent so this will be interesting.

 


  To bring this article to a close I have to say how lucky we have been to be given such a body of work that must have taken Harry Kingston most of his spare time to research and compile. We have to be thankful for his wife for retaining the documents all those years after his death and for subsequent extended family members to have considered the society as a means of final disposal. No doubt Harry Kingston is a name long since forgotten but now this has given us an opportunity of resurrecting it and providing a permanent marker for his talents within our society archives which leaves me to make a request. Prior to retirement in 1955 Harry presented to the Bilston Grammar School a cup called 'The Kingston Award for Leadership and Example'. The school ceased to exist after the 11+ was dropped one wonders if after 65 years if it still exists - or does one of you out there have it tarnishing in your loft?   Don't forget meetings are every 2nd Tuesday of the month at 7.15pm, CHART Centre, Gomer St, or just Google 'Willenhall History Society' on your grand-children's smart phone. Or they'll do it for you to see what speakers we have coming. For any more similar suitcases I am available 24/7 on 10902 843007.  Bye for now. Bob.