How to Get Fuller, Softer and Natural Looking Lips with Allsopp @ Birmingham Road
9th November 2016
... Comments
---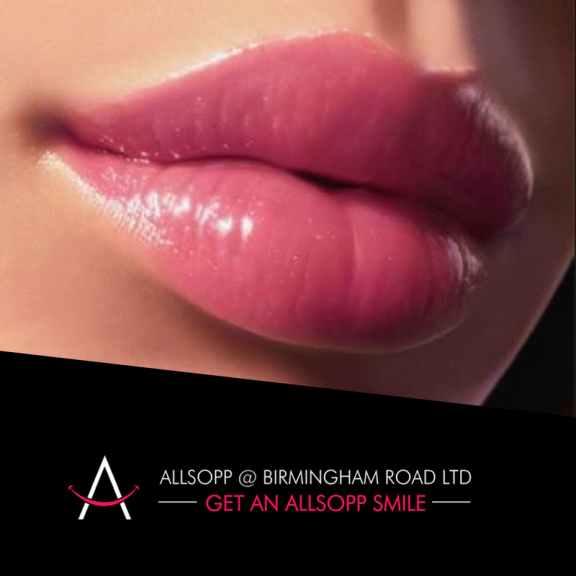 Your lips are a tool that you use every day and without even knowing they are often the centre of attention. Beauty ideals have changed overtime. Obvious volume and augmentation of the lips that have been the trend in the past, is on the way out. We now look for symmetry and balance rather than sizable impact.
How our lips age
The lips and mouth area are often exposed to external factors that result in ageing, both from weather conditions and smoking, but also because you use them every day when you laugh and talk. Our lips do not retain water the same way other skin tissue does, therefore they are more susceptible to dehydration, thinning and imbalance. Lip treatments are an effective way to achieve fuller, healthier looking lips to give you a more youthful appearance
The product we use
The FDA approved products that we use such as Emervel or Juverderm is a non-permanent Hyaluronic acid dermal filler designed to give safe long lasting treatment outcomes.
The filler is extremely versatile and can be used to increase volume to create fuller looking lips add definition or contour the lip line – meeting your every need.
Will it hurt?
The Dermal filler contains Lidocaine, a local anesthetic to make your treatment experience as comfortable as possible.
What are the benefits?
Enhances lip volume
Adds definition to the lip line / border
Enhances and lifts your cupids bow adding definition
Reduces visible smoker lines and lifts the mouths corners to give you a happy smile
How long does a treatment take?
Treatment will only begin once a full consultation and medical history has been completed. After this the treatment is simple and quick and it will normally take 15-20 minutes.
What to expect after your treatment?
Results can be seen instantly, patients can experience a little discomfort immediately after treatment, but any swelling, redness and itching usually resolve by themselves after a few hours or days depending on each individual.
Cost
Treatment are competitively priced and start from just £299.
Contact Allsopp
Call Allsopp @ Birmingham Road today on 01922 746796 to book your free consultation.
---
For more information about how Allsopp can help you get a smile that you are proud of, click here.