Free Counselling Available on International Survivors of Suicide Loss Day - 17th November, 2023
7th November 2023
... Comments
---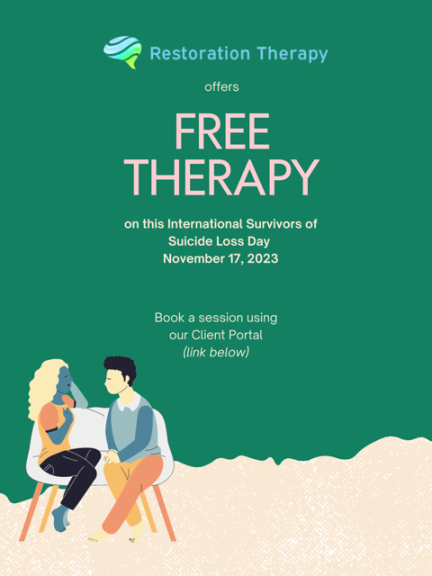 On International Survivors of Suicide Loss Day on 17th November 2023, Restoration Therapy want to extend their support to you and your loved ones.
To help you navigate through this difficult time, they are offering free counselling services with dedicated professionals who understand the unique pain that survivors of suicide loss experience. The counselling sessions are available in 45-minute or 1-hour appointments and can be conducted on a one-to-one basis or with families and couples. Their goal is to provide you with a safe space to express your feelings, find healing, and move forward at your own pace for FREE.

Restoration Therapy are also aware that there will be individuals that are struggling that haven't experience loss in this way and they would also like to extend our hand of support and invite you to come book an appointment on this day if you are in need.

To ensure your comfort during these sessions, they have a range of hot and cold beverages available. Sometimes, a warm cup of tea or a refreshing cold drink can provide the solace needed to open up and share your emotions.

Booking a counselling session is easy. Please complete the booking form, which you can find on Restoration Therapy's Website - click here
Simply fill l in your details, and they will get in touch with you to schedule a convenient time for your counselling session.

Restoration Therapy are committed to supporting you on your journey towards healing and hope. You are not alone, and they are here for you.
Contact Restoration Therapy on 01922 922083 for help on this day or if you wish to discuss booking a counselling session
The Clocktower, Lichfield St, Walsall WS4 2DU
Restoration Therapy help individuals who are struggling to manage life's challenges by providing therapeutic support to be the best version of themselves.