Create a beautiful evening atmosphere in your garden
Make the most of your summer evenings by enjoying a garden that's as beautiful at night as it is in the day. Here are some top tips from AC Electrical of how lighting can transform your night-time garden
Choose the best place
Always remember to use garden lighting sparingly. You don't want to overwhelm the garden with too many lights. The key is to place them in the right locations - use low wattage lights that never have bulbs larger than 100 watts.

Make sure none of the light directly point into your or your guest's eyes. If you want to highlight the entire garden, then space the lights so there is a brief, soft overlap of light between them and choose a focal and aim the lights around that point.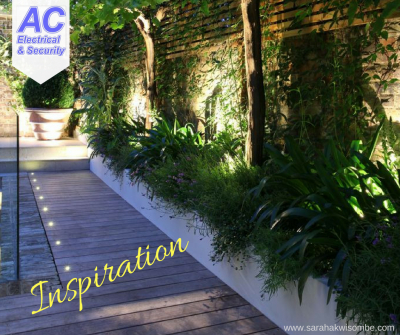 Enhance Garden Features with Lighting
Even simple lighting can add drama to your garden's features. LED lights give an ambient glow and wind lanterns and fairy lights add a whimsical touch to dull areas.

Maybe you want to highlight certain features to make them stand out even after dark? You may want to look at highlighting certain plants, trees, or statues in the garden by pointing lights in their direction. The lights should illuminate from the side so they don't overwhelm.

TOP TIP: Create a dramatic atmosphere by lighting up a pond or waterfall - lights are a fantastic way to highlight ripples and reflections.

Think outside the box
Get creative, if you're lucky enough to have trees in your garden remember that they can look gorgeous when lit up and you don't have to have to use a spotlight to make them an interesting feature.

Wrap a string of lights around the trunk and place an up-light under the canopy to draw the eye upwards.
Why not light up some of your other structures like your shed or greenhouse with some solar powered LED lights, or even use lanterns on the wall of your house.
TOP TIP: Decorate a children's play area by covering trees and fences with fairy lights. Let them choose their favourite colours and shapes to make their own secret garden.

Extend your garden space
Lighting can create the illusion of spaciousness in the most modest of gardens by drawing the eye around the space.

Use solar rock lights to illuminate paths and hang lights off trees, walls or bushes. Bouncing light off a wall or reflective surface creates space and highlights plants!

TOP TIP: If your garden is lacking in plants, then lighting alone can add extra interest and portable solar lights work really well in small gardens.



Light your way
You want your garden to look nice and appealing to the eye, but you also want your home to remain safe. Think about the added security that the right lighting can give to the areas around your house. Use the garden lighting ideas to enhance your safety, for example, use lights along the path into the garden.

TOP TIP: If you use soft lighting that shows off plants, you could install a motion sensor on a brighter light that will flip on as you walk past.
Maintain Your Garden Lighting 
You will need to maintain your garden lighting on a regular basis in order to keep using your outdoor garden lighting. Change bulbs and batteries on a regular basis and keep the lights clean – especially solar powered lights.
Contact the team
These are some of the tops tips that can help transform your garden this summer. If you have any trouble designing or deciding which lights to use, then consult the team at AC Electrical and Security Services, who have a whole range of garden and pond lighting to help you create the right atmosphere this summer.
Call the team on 01922 235401