5 Weird and Wonderful St Patrick's Day Facts
Every year March 17th marks the day where we all seem to turn a little Irish, that's right it's St Patrick's Day!
Most known as a national drinking holiday in recent years the day is held to commemorate St Patrick who brought Christianity to Ireland in the 4th Century!
So to celebrate it this year we've put together a list of weird and wonderful facts about old St Patrick and the day itself!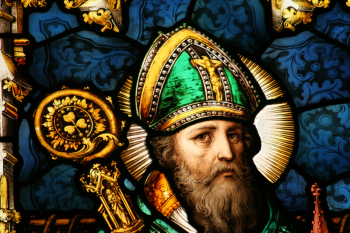 1. St Patrick wasn't Irish 
St Patrick is the Patron of Ireland but he was in fact born in Britain (Wales or Scotland depending on what stories you hear) and brought to Ireland as a slave, also his parents were of Roman heritage.

2. Blue was the colour
Originally the colour blue was most associated with St Patrick it was only changed to green due to the Patron's use of shamrocks in his teachings.

3. It was first celebrated in America
St Patrick's Day was actually first celebrated in Boston, Massachusetts in 1737 with a parade and the it wasn't until over a century later in 1931 that Ireland hosted its first St Patrick's Day parade in Dublin.

4. Guiness!
Guiness state that the daily average pints of Guiness sold is around 5.5 million worldwide, this however almost triples on St Patrick's Day to a staggering 13 million each year! In addition to over $240 million in beer sales reportedly being made on St Patrick's Day in 2012.


5. Chicagoes Green 
Each year Chicago River is dyed Shamrock Green for a few hours to celebrate St Patrick's Day, with 100lbs of dye being placed in the river!
So there you have it! We hope our St Patrick's Day Fun Facts have got you in the Irish Mood!
If it has why not check out our selection of recommended Walsall Pubs, Bars & Restaurants that will being hosting a wide variety of St Patrick's Day festivities.
Also to read more of our local Blogs CLICK HERE