Walsall Chiropractic Health Clinic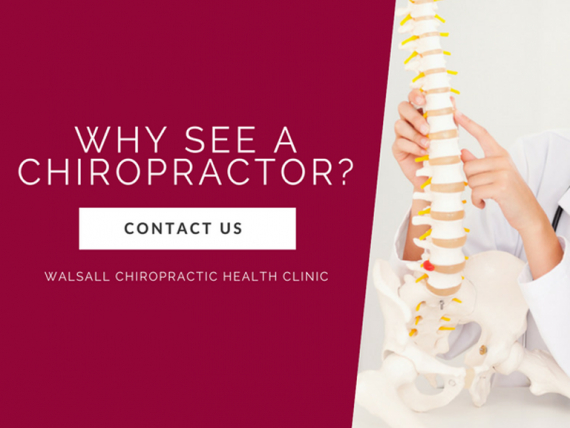 about us
Walsall Chiropractic Health Clinic are Walsall's premier Chiropractors dedicated to providing outstanding chiropractic care
Dr Philip Cooper Bsc (Chiro). DC, the practice director and owner of Walsall Chiropractic Health Clinic, is renowned for being one of the finest chiropractors in the West Midlands.
He has built a first class team of four experienced Chiropractors at the clinic supported by chiropractic assistants. They also have a fantastic network of local GP's and consultants with whom they regularly liaise. If chiropractic is not appropriate or suitable for an individual, then they will without reservation refer them on to another professional.
Walsall Chiropractic Health Clinic offers both male and female chiropractors and an Acupuncturist together with on site X-Ray facilities if required. This X-Ray facility is state of the art digital X-Ray processing.

The practice delivers first class, professional care in a friendly and supportive environment, no wonder that thousands of people in the West Midlands would not consider going anywhere else. This can be confirmed by the many testimonials received off satisfied clients from all walks of life.

Philip has a very keen interest in sports related Chiropractic. He is honoured to be able to treat the players each week at the spectacular new training ground at Bodymore Heath. Philip works very closely with the Doctor and Physiotherapists at Aston Villa Football Club where the players certainly benefit from a Chiropractic preventative approach.

Walsall Chiropractic Health Clinic offers the treatment of the following conditions:

• Spondylitis
• Knee and Foot Injuries
• Frozen Shoulder
• Whiplash
• Back and Neck Pain
• Migraines and Headaches
• Lumbago
• Hip Pain
• Tennis Elbow
• Trapped Nerves
• Wrist Sprain
• Sciatica
• Carpal Tunnel
• Osteoarthritis
• Sports Injuries
• Slipped Discs
The approach at Walsall Chiropractic Health Clinic is simple. They believe that health is among your most valuable possessions. While they generally meet people after they've lost their health, their commitment is two-fold:

1. Relief Care

When many people seek care in their Chiropractic practice they have one goal: relief. So that's where they start! During this initial stage of intensive care, they have several obligations:

• Uncover the underlying cause of the health problem
• Suggest a care plan to produce the fastest results possible
• Offer ways patients can participate in their recovery
• Explain the value of post-symptomatic wellness care
2. Wellness Care
Walsall Chiropractic Health Clinic encourages their patients to achieve the highest levels of health they can.
Through educational opportunities they hope to communicate the value of ongoing chiropractic care. Their desire is to see their patients embrace the emerging wellness model of health that focuses on early detection, prevention and optimal well-being.

You're the Boss

Regardless of your health goals, please understand they see themselves as mere servants. You're the boss! It's your body, your health and your future. Their job is to offer you the finest chiropractic care possible, and it's up to you to decide how much of it you want.

So if you are looking for a Chiropractor in the Walsall, Black Country and West Midlands Area then look no further than Walsall Chiropractic Health Clinic - call 01922 430915
Contact us

81 Broadway
Walsall

WS1 3EZ

Email us now

Visit our website

our videos

our videos

offers

find us here

follow us

This is a live stream from Twitter - not the voice of thebestof!

find us on facebook

thebestof awards

Chiropractors