IT'S A SHOWSTOPPER KITCHEN, SAYS BAKING FAVOURITE KAREN
REDROW'S fully-fitted kitchens would be sure to earn a 'Hollywood handshake' – and now bubbly bake-off contestant Karen Wright has declared them a showstopper too.
The West Yorkshire mum, who competed in the nation's favourite bake-off show last year, gave one of Redrow's best rooms the thumbs-up when she used it as a backdrop for her latest photoshoot.
Karen, who's as fond of her trademark beret as she is of the French fancies she learned to create while living across the channel, put on her pinny in the kitchen of the Cambridge show home at Redrow's new City Fields development.
She said: "I love to cook and entertain and this would be my perfect combination, top end specifications, but homely and warm."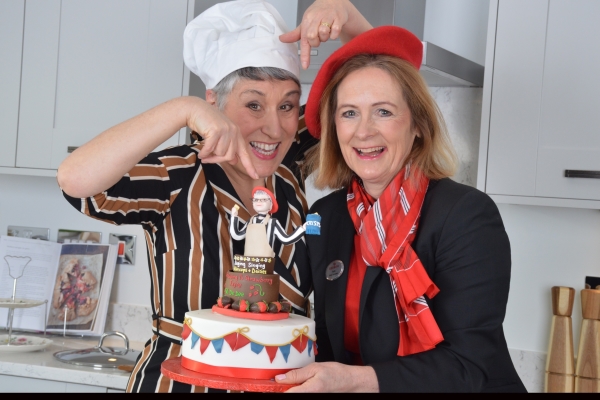 Redrow's Ruth Taylor tries Karen's red beret for size
The kitchen, dining and family area spans the entire width of the Cambridge style home and boasts fully integrated appliances, a large dining section and lounge area, all overlooking the garden.
Karen, who giggled as sales staff tried on her raspberry red beret, added: "The kitchen is not just a kitchen. This space is a full-on family area where you can study, eat, cook, relax, entertain – it can be whatever you want it to be."
And, she joked: "I was delighted to discover a good-sized utility room that houses the washing machine and tumble dryer that I also used as my changing and props room."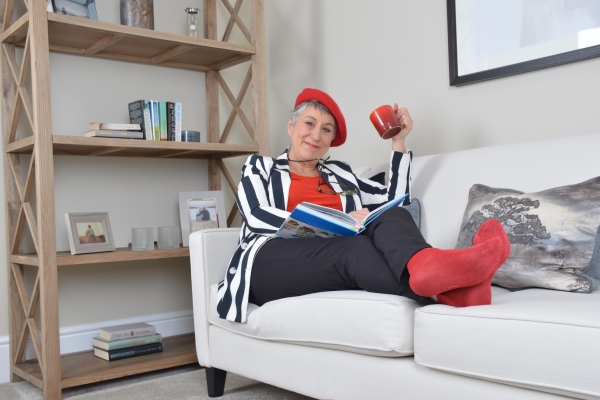 In trademark red beret and stripes, Karen makes herself at home in Redrow's Cambridge
The self-taught baker who has her own website – www.karenwrightbakes.co.uk – became an instant hit when she pitched her talents in the national television cooking competition.
And when she decided to 'raise' her profile with a new portfolio of pictures, it made perfect sense to ask Redrow if she could use one of the fabulous kitchens in their City Fields' show homes. The fact it's in her hometown of Wakefield was the icing on the cake.
"I've noticed these fine-looking homes and jumped at the chance to have a peek. I headed straight for my natural domain the kitchen, but I did glimpse a lovely lounge as I passed through and made sure to get some great photos in there too," confessed Karen.
With three and four-bedroom homes currently available from £261,950, City Fields offers a variety of property styles from Redrow's Heritage Collection, which combines traditional craftsmanship exteriors with modern, open plan interiors.
Just a short drive north of the city centre, City Fields is within easy reach of the M1 and M62 motorways which make it perfect for commuters, while the semi-rural spot close to schools, services and shops makes it ideal for families too.
The sales suite and show homes have welcomed a stream of visitors but none quite as sweet as Karen.
Steve Jackson, sales director for Redrow Homes (Yorkshire), said: "It was lovely to see Karen, and to receive such glowing comments about our Cambridge show home and, in particular, its fabulous kitchen. She brought a lot of fun to the development that day – and hopefully next time we can get her to bake for us too."
For more information and to view the show homes at City Fields visit the sales suite on Aberford Road, usually open daily from 10am to 5.30pm. Alternatively, go to www.redrow.co.uk/cityfields or call 01924 586848.
---

Issued for & on behalf of Redrow Homes (Yorkshire) by Active PR
Main Image: Karen Wright in the kitchen of Redrow's Cambridge show home at City Fields