St Neots Farmers Market - Fresh local produce
Market Square
St Neots
Cambs
PE19 2BH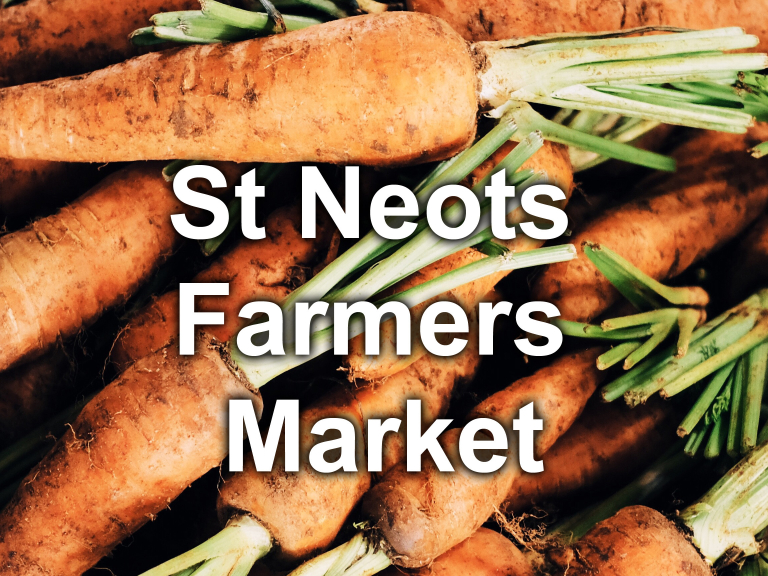 Tasty local fresh produce from our regions farmers and producers. The Market Square St Neots 2nd and 4th Saturday of each month.
ST NEOTS FARMERS MARKET.
2nd & 4th Saturday of each month
Local fresh food supplied by the people that produce it.
Produce sold is sourced locally within 30 miles radius.
 Featuring an array of locally sourced and produced products including meats, vegetables, cheeses, chutneys and pickles, fresh bread, homemade baked cakes, sauces, preserves, plants and handmade crafts. 


8am - 1pm

St Neots Market Square

For more info contact The Town Clerk on:

01480 388911
Future dates
Saturday 25th April 8:00am until 1:00pm
Saturday 9th May 8:00am until 1:00pm
Saturday 23rd May 8:00am until 1:00pm
Saturday 13th June 8:00am until 1:00pm
Saturday 27th June 8:00am until 1:00pm
Saturday 11th July 8:00am until 1:00pm
Saturday 25th July 8:00am until 1:00pm
Saturday 8th August 8:00am until 1:00pm
Saturday 22nd August 8:00am until 1:00pm
Saturday 12th September 8:00am until 1:00pm
Saturday 12th September 8:00am until 1:00pm
Saturday 19th September 8:00am until 1:00pm
Saturday 26th September 8:00am until 1:00pm
Saturday 10th October 8:00am until 1:00pm
Saturday 24th October 8:00am until 1:00pm
Saturday 14th November 8:00am until 1:00pm
Saturday 28th November 8:00am until 1:00pm
Saturday 12th December 8:00am until 1:00pm
Saturday 26th December 8:00am until 1:00pm
Saturday 9th January 8:00am until 1:00pm
Saturday 23rd January 8:00am until 1:00pm
Saturday 13th February 8:00am until 1:00pm
Saturday 27th February 8:00am until 1:00pm
Saturday 13th March 8:00am until 1:00pm