Whitworth Rushcart celebrations update
7th September 2016
... Comments
---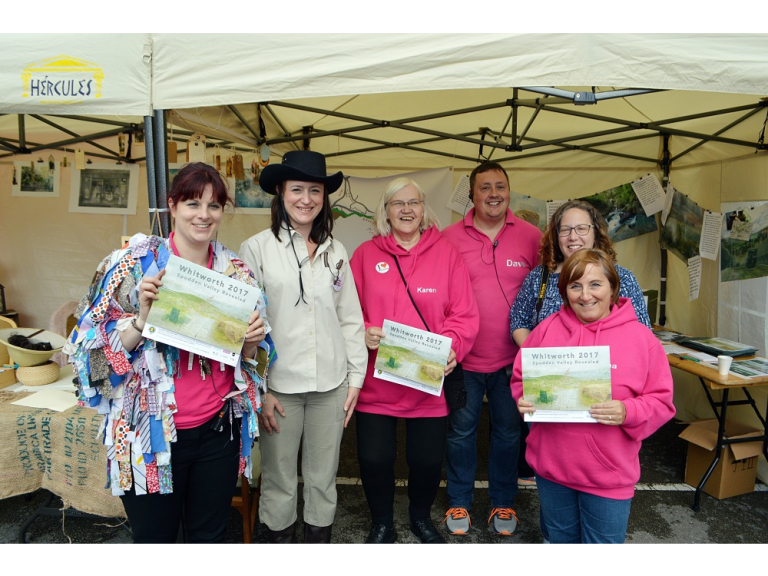 Whitworth 2017 Spodden Valley Revealed Calendar Launch
Whitworth celebrated its annual Rushcart celebration on Sunday 4th September and amongst the celebration the brand new official Whitworth 2017 Spodden Valley Revealed calendar was launched.  
This year the calendar has been produced by collaboration between artists from Glassball, Whitworth Tourism and Leisure Committee and the Spodden Valley Revealed project.  This special calendar marks the beginning of the heritage project in Whitworth and celebrates the special heritage of the area.  This heritage project is funded by the Heritage Lottery Fund, Arts Council and Lancashire County Council and is managed by Mid Pennine Arts (MPA), Lancashire's unique arts charity.  Spodden Valley Revealed is a three year project which will result in a unique trail off a Greenway through the town – highlighting and telling the stories of Whitworth from The Doctors and The Square through to understanding the landscape and its industrial and agricultural heritage. 
The calendar has been created by collecting a treasury of memories from a wide range of Whitworth locals to celebrate this unique industrial heritage and culture, and preserving it for present and future generations.  Thank-you to all the staff at the Red Lion Pub, staff and residents at Sunnyside Care Home and volunteers at Whitworth Historical Society, also a special thank-you to everyone who shared stories and tales of our beautiful valley. 
The proceeds from sales of the calendar will be used to promote Tourism and Leisure within Whitworth and the calendar is on sale now costing just £5 each available from Whitworth Town Council Office at The Riverside, UBS, Jan's Butty Shop and Whitworth Post Office.  
For further information, or to order a calendar by post please contact Melanie Hearn, Whitworth Town Clerk on 01706 852018 / email: info@whitworth.gov.uk (Monday to Friday, 9am – 2.30pm).