Whitworth Rushcart another outstanding success
9th September 2015
... Comments
---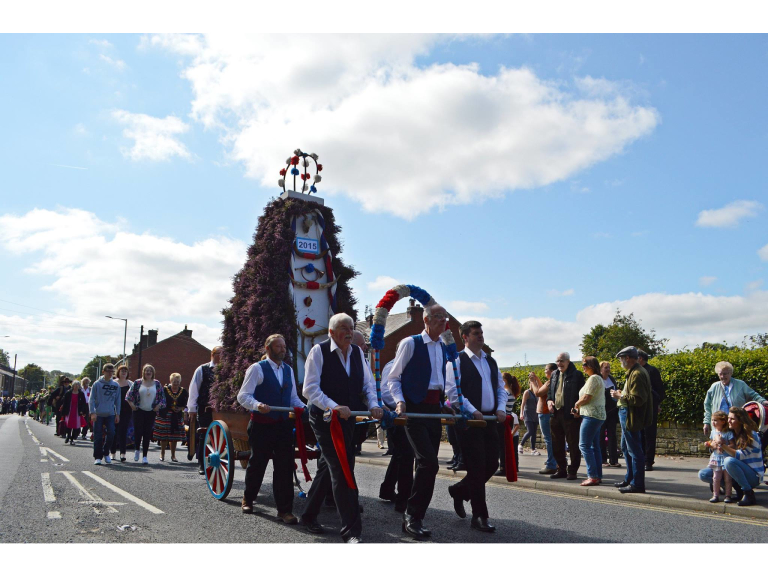 Organisers have hailed this year's Whitworth Rushcart as another outstanding success.  The annual event was held on Sunday 6 September in glorious late summer weather and attracted crowds of around 1,500 people over the course of the afternoon. 
The festivities began with a procession from North Street up to the Riverside, featuring morris dance troupes, the Whitworth Vale and Healey Bands, the Mayor of Whitworth, the Thwaites Shire Horses and dray (cart) and of course the Rushcart itself, resplendent in purple heather collected from local hills in the weeks before the event by the Whitworth Rushcart Men and pulled by the men themselves.
Following the procession, celebrations were centred on the Riverside itself.  Inside was an arts and crafts fair, featuring local artisans and displays from the local Historical Society.  On the car park there were rides and inflatables provided by PA Leisure, more arts and craft stalls, refreshments and performances from the various morris dance troupes, including some audience participation!
The event is organised by the town's Tourism and Leisure Committee; Committee Chairman Councillor David Chorlton said: "This year's Rushcart went brilliantly well, and the response that we've had from the stallholders, dancers and the general public has been very positive.  We were delighted to welcome a couple of new dance troupes to Whitworth, as well as our familiar favourites, and we hope we will see them again next year.  It takes a year for the Committee to organise the Rushcart, and I offer my personal thanks to all who volunteer on the Committee for making the day such as success.   On behalf of the Committee I would also like to thank all who helped out at the Rushcart, including our local Police, marshals, stallholders, dance troupes, and the staff at the Riverside who worked tirelessly.  Special thanks as always go to Clive Morton, the heart and soul of the Rushcart, whose input is invaluable.  We will debrief this event and then start to look forwards to 2016's offering."