Whitworth Community Carol Service information
13th November 2015
... Comments
---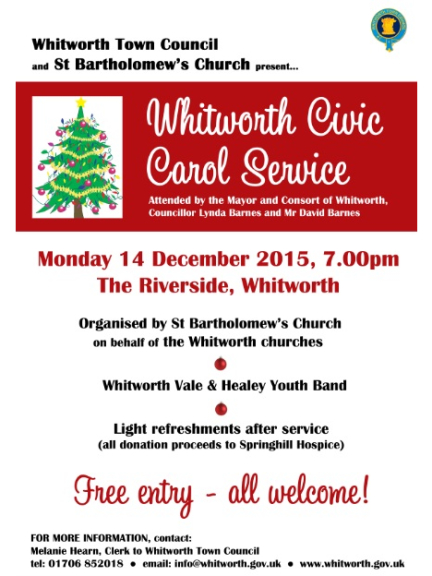 Whitworth's Community Carol Service will take place on Monday 14 December at 7pm at The Riverside (Civic Hall), Whitworth.
The service will be attended by the Mayor and Consort of Whitworth, Councillor Mrs Lynda Barnes and Mr David Barnes.
The service has been organised, and will be led by, St Bartholomew's Church on behalf of the churches in Whitworth, working alongside Whitworth Town Council.
The Whitworth Vale and Healey Youth Brass Band will accompany the carols throughout the evening and we will have a performance from the Whitworth Community Choir.
Light refreshments will be provided after the service by the Whitworth Support Group for Springhill Hospice.  The Community Carol Service is a free event with unreserved seating, and all are welcome.
Melanie Hearn, Town Clerk, says: "The Community Carol Service is always a hugely popular event, and we're looking forward to a diverse and enjoyable evening.  Following the switching on of the town's Christmas lights at the end of November, we're all certainly getting into the festive spirit!"
For more details, contact Melanie at Whitworth Town Council on 01706 852018 / email: info@whitworth.gov.uk.