The Riverside release Christmas party night dates
5th August 2015
... Comments
---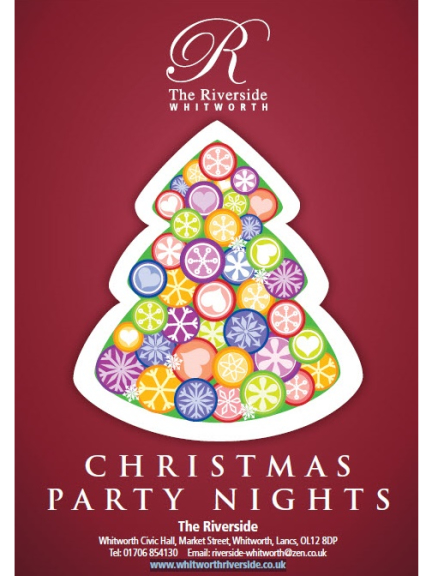 Okay, so it may be August but it's never too early to book your festive party!
It may still be summer in the Rossendale Valley but many are already thinking about Christmas. With Selfridges opening a festive shop in London for those present-buying early birds, which has received a substantial amount of press, the 25th December is on our minds already, and it'll soon be upon us.  
Maybe you don't need to think about what you're going to buy Uncle Joe or Aunty Carole, but booking your Christmas party is one of the top priorities. This is because - surprisingly - many companies actually book in advance, not just to be organised but for budgeting purposes too. Like Selfridges, many start to prepare for Christmas from the Christmas before!
Not only do festive parties motivate your staff, but they also give you an opportunity to build relationships with your workforce. Hosting a party isn't just to celebrate the festive season either, but also to show appreciation to staff during what is for many a very busy time of year - particularly for traders.
The Riverside in Whitworth have released their very popular Christmas party night dates - for those who want to avoid disappointment.
The evenings include a delicious three-course meal, entertainment and a disco.
Dates are:
Friday 11th December
Friday 18th December
Saturday 19th December
If you want to be one step ahead and organise your Christmas party before work gets even busier, do it now.
The Riverside is located in the pretty village of Whitworth, and is the perfect venue for all functions. Wherher it's a wedding, birthday celebration or Christmas party, The Riverside has state of the art facilities, clean, fresh surroundings and a friendly team to ensure your evening is one to remember. Book your Christmas party now by contacting Lisa or Aimee on 01706 893 532.