Mayor of Whitworth welcomes guests to Whitworth's Civic Dinner & Dance.
5th April 2016
... Comments
---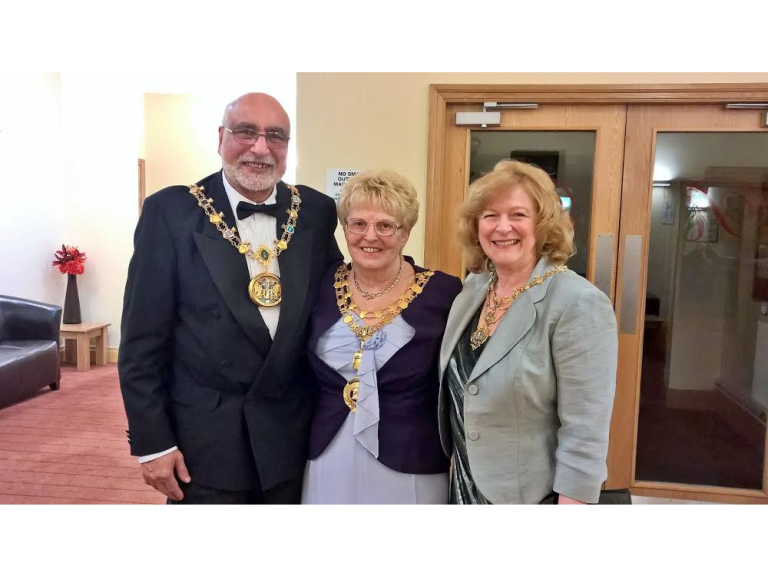 Mayor of Whitworth welcomes guests to Whitworth's Civic Dinner & Dance.
The Mayor and Consort of Whitworth, Councillor Lynda Barnes and Mr David Barnes, this weekend hosted 'A Celebration of a year in Whitworth', at Whitworth's Civic Dinner and Dance on Saturday 2 April.
The evening took place at the Riverside in Whitworth and guests included friends and family of the Mayor and Consort, and visiting dignitaries from  neighbouring areas, including the Mayor and Mayoress of Rochdale.
The guests enjoyed a three-course meal followed by cheese and biscuits, provided by Whitworth company Lords the Caterers.   Following the meal and a couple of short speeches, guests were 
treated to first class entertainment from the Lancashire-born International Female Vocal Artist Gemma-Louise Doyle,  a classically trained singer who performed timeless world favourite hits, from Popular music to Jazz, West End Musicals & more.
There followed a raffle which raised £365 for the Mayoral Charity Fund to be distributed to support the young people of Whitworth.  The evening finished off with a disco and guests danced the night away into the early hours.
The Mayor of Whitworth, Councillor Lynda Barnes, said: "David and I had a fantastic evening.  It was lovely to see our friends and family, and so many members of the Whitworth community and even our MP, Jake Berry.  We were also delighted to be able to welcome civic dignitaries from six towns and boroughs to Whitworth.  The money raised for my charity fund was the icing on the cake; all the monies raised for this fund will be donated to local organisations who work with our young people as they are the future of Whitworth.  David and I offer grateful thanks to all who attended on the night, the businesses who and to everyone who worked so hard to make the evening a success."
For more information please contact Melanie Hearn, Whitworth Town Clerk (tel: 01706 852018 email: info@whitworth.gov.uk).