Brazilian Capoeira Classes for Adults and Kids
The Portsmouth Academy
PO1 5PF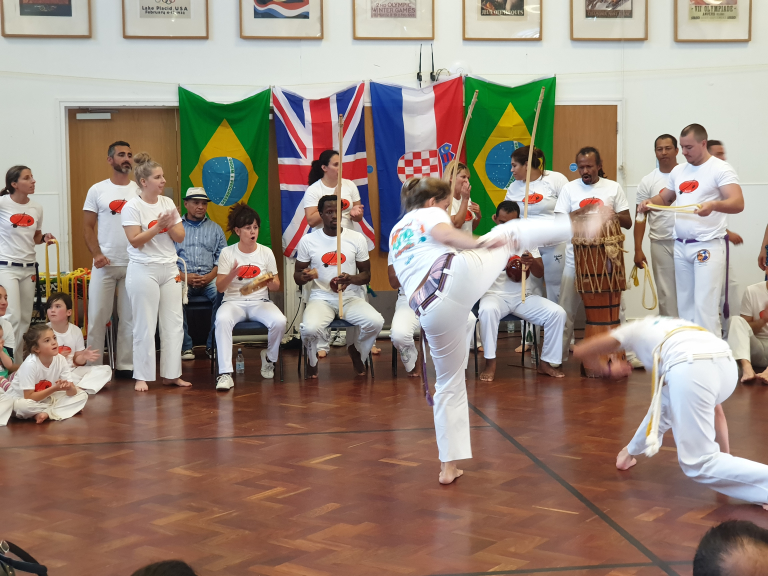 Brazilian Fun and Fitness for Adults and Kids
Start your 2019 with a chance of getting/keeping FIT whilst having FUN ! 
Join us if you are looking for a friendly and family-oriented environment, and if you would like to:  improve your posture, balance, stamina, body strength, musical and multi-tasking skills 
The Ajitu group has 18 years of experience in the field, and its teachers will tailor the training to your starting level, making sure you will see tangible progress in just 4 weeks. 
Plus, your FIRST week is totally FREE ! 
(booking required, please get in touch and mention this ad) 
Kids class: Mondays 6.30-7.15pm 
Adults class: Mondays 7.15-8.30pm
Future dates
Monday 9th August 6:30pm until 8:30pm
Monday 16th August 6:30pm until 8:30pm
Monday 23rd August 6:30pm until 8:30pm
Monday 6th September 6:30pm until 8:30pm
Monday 13th September 6:30pm until 8:30pm
Monday 20th September 6:30pm until 8:30pm
Monday 27th September 6:30pm until 8:30pm
Monday 4th October 6:30pm until 8:30pm
Monday 11th October 6:30pm until 8:30pm
Monday 18th October 6:30pm until 8:30pm
Monday 25th October 6:30pm until 8:30pm
Monday 1st November 6:30pm until 8:30pm
Monday 8th November 6:30pm until 8:30pm
Monday 15th November 6:30pm until 8:30pm
Monday 22nd November 6:30pm until 8:30pm
Monday 29th November 6:30pm until 8:30pm
Monday 6th December 6:30pm until 8:30pm
Monday 13th December 6:30pm until 8:30pm
Monday 20th December 6:30pm until 8:30pm
Monday 10th January 6:30pm until 8:30pm
Monday 17th January 6:30pm until 8:30pm
Monday 24th January 6:30pm until 8:30pm
Monday 31st January 6:30pm until 8:30pm
Monday 7th February 6:30pm until 8:30pm
Monday 14th February 6:30pm until 8:30pm
Monday 21st February 6:30pm until 8:30pm
Monday 28th February 6:30pm until 8:30pm
Monday 7th March 6:30pm until 8:30pm
Monday 14th March 6:30pm until 8:30pm
Monday 21st March 6:30pm until 8:30pm
Monday 28th March 6:30pm until 8:30pm
Monday 4th April 6:30pm until 8:30pm
Monday 11th April 6:30pm until 8:30pm
Monday 18th April 6:30pm until 8:30pm
Monday 25th April 6:30pm until 8:30pm
Monday 9th May 6:30pm until 8:30pm
Monday 16th May 6:30pm until 8:30pm
Monday 23rd May 6:30pm until 8:30pm
Monday 6th June 6:30pm until 8:30pm
Monday 13th June 6:30pm until 8:30pm
Monday 20th June 6:30pm until 8:30pm
Monday 27th June 6:30pm until 8:30pm
Monday 4th July 6:30pm until 8:30pm
Monday 11th July 6:30pm until 8:30pm
Monday 18th July 6:30pm until 8:30pm
Monday 25th July 6:30pm until 8:30pm
Monday 1st August 6:30pm until 8:30pm
Monday 8th August 6:30pm until 8:30pm
Monday 15th August 6:30pm until 8:30pm