7 Tips for Packing Fragile Items
14th March 2017
Author: Richard Taylor
Comments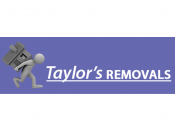 Moving house is stressful and often very hectic particularly when it comes to packing away your treasured possessions.
Taylor's Removals in Oldham are experts in removals and packing and offer some great tips on how to pack fragile items to ensure they arrive at your new home safely:
Packing materials -  you can never have enough packing supplies.  Ensure you have packing tape, bubble wrap, packing paper, all box sizes, blankets and more!
Don't pack boxes too heavy – do not exceed the limit of 30pounds per box this will ensure your items are easier to carry.
Fill empty gaps – don't let your possessions move about, if there are gaps in the boxes, fill them with old newspapers, packing paper etc.
Label boxes – this will ensure you know what is in each box, making it easier when you start unpacking.
Double wall boxes – this is great for heavier items and will make sure they don't fall through.
Box items sensibly – the heavier the item, the smaller the box.  Don't make it heavier than it needs to be.
Pack plates sideways – this will avoid breakages. Make sure you have paper between each plate.
Wrap items individually – wrap cups, dishes, glasses individually.  Layer your box with packing paper or cloth to act as a cushion and remember to fill in the gaps.
Taylor's Removals specialise in domestic and commercial removals and they also offer affordable packing and storage solutions.  If you are hiring Taylor's Removals to move home or business and have no time to pack your items, talk to the team today!