Family Of Manchester "People's Artist" Frances Lennon MBE Speak of Their Pride After School Children's Mural Installed at Stretford Mall
Pupils from Gorse Hill Primary School and Lostock College with the two murals at Stretford Mall, with Frances Lennon's family members Anne-Marie Royle, Emily and Nicky, Gorse Hill teaching assistants  Siobhan Westwood and Caroline Mears,  Lostock College art teacher Lindsey Davies, Stretford Mall centre manager Gareth Wilkins and operations manager Craig Topping, Matt Mason, Senior Associate from Altrincham-based Pozzoni architects, and Dave Evans and his son Alex Evans of Corner House Design & Print Ltd
THE family of one of Manchester's most decorated artists Frances Lennon MBE have spoken of their pride after a mural inspired by her work was installed at Stretford Mall.
Pupils from Gorse Hill primary school painted a series of 47 artworks based on the work of Lennon, who's depictions of Manchester life saw her compared to LS Lowry and described as the "people's artist".
The mural stands alongside a second giant artwork created by pupils from Lostock College, which pays tribute to other Stretford icons including LS Lowry, John Rylands, the Essoldo cinema, Morrissey, and even a number 256 bus.
The two pieces, each seven-foot-high by fifteen-foot-long foot long, were commissioned by Stretford Mall installed in celebration of local culture and heritage, as the crowning glory to a £2.5m redevelopment including a new glass entrance and modernised retail space. 
It comes almost five years after Lennon's death aged 102 in January 2015. Born in Gorse Hill in 1912 - the year of the Titanic disaster - she was official artist for Commonwealth Games in Manchester in 2002 and the following year received an MBE for her contribution to the arts and charity from Prince Charles.
The artist's grand-daughter Anne-Marie Royle, 57, visited the murals accompanied by her children Emily Royle, 32, and Nicky Royle, 30, along with teachers and pupils from both schools, and the Stretford Mall management team headed up by centre manager Gareth Wilkins.
"I'm so proud," said Anne-Marie. "I can't think of anything more apt than to see Nana's work up here for everyone to see in the heart of Stretford. It really shows character.
"This is where she was born, grew up and lived all her life. She had a real sense of childhood. She loved people, it was local scenes and local people, so this is what she was about, it's her heritage.
"She would have absolutely loved this, she had lots of awards and honours, but she really would have loved this probably more than any of them – it's up there with meeting the Pope!"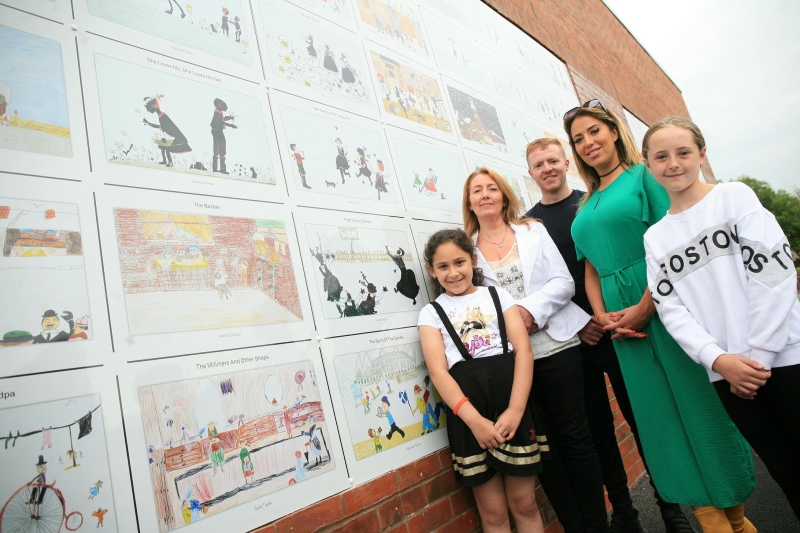 Frances Lennon's granddaughter Anne-Marie Royle, (back left) with her children Emily and Nicky Royle, (back, centre and right), with with  Gorse Hill primary school pupils Nawres Hamrouni (front left / Year 3, aged 8) and Nevaeh Wildman (front right  /Year 5, aged 10).
Anne Marie's daughter Emily, Lennon's great-granddaughter features in one of the art works 'She Thinks Me a Flower', she said: "It's great it, they've really captured my Nana's spirit, it's all her memories of how things were.
"She remembered seeing all the crowds come home after Derby Day, and the Ethiad stadium being built, these are the things she painted. We're all so proud."
Her brother Nicky, the artist's great grandson, features in the painting: "The Spirit of the Games" commissioned for the Commonwealth Games, featuring the Ethiad stadium.
He said: "A hundred years on it's amazing to see Nana's work being recreated. It's really special that it's been done by local children and that it's on display here in Stretford Mall."
Mum Anne-Marie, who has two other children Thomas, 36, and Gary-Paul, 34, who have also featured in Lennon's work over the years, added: "We've always shopped at Stretford Mall. It's wonderful to see it here in place for everyone who goes past or comes in to see. It's inspired me."
Gareth Wilkins, centre manager at Stretford Mall said: "We are over the moon to be able to  host both of these murals at Stretford Mall.
"The two schools have created two original artworks, both paying tribute to the heritage and culture of the Stretford area. Frances Lennon was a local treasure and it is wonderful to meet the family of Frances Lennon and to have their blessing."
Frances Lennon did not begin painting full time until her husband Bill died in 1982.  In 2003 she was awarded an MBE by Prince Charles  for her contribution to arts and charity, which included extensive work for the St Francis House Hospice in Didsbury. She was presented with two honorary degrees in 2004, from Salford University and Manchester Metropolitan University. She passed away aged 102 in January 2015.
Her works as featured in the Stretford Mall tribute mural, include depictions of her own childhood dating back to the 1920s, such as children playing with a spinning top.
Other paintings feature local landmarks such as Gorse Hill gas works and the Ethiad stadium, which she saw being built and recorded for the Manchester Commonwealth games.
Siobhan Westwood Teaching Assistant at Gorse Hill primary school supported the children to produce the artwork along with colleague Year 1 teacher Leigh-Anne O'Neill, and Teaching Assistant Caroline Mears.
Ms Westwood said: "It has taken three months of hard work to create the drawings in our art classes and we are very proud of the children and their achievement.
"We wanted to pay tribute to Frances Lennon because she was from Gorse Hill. The children relate to a lot of their image as they are about local people and life in their local area, so it is relevant to them."
Gorse Hill primary school Year 2 pupil Amelia Grainger, aged 6, said: "I love art and I love drawing. It was really fun." Year 5 pupil Nevaeh Wildman, aged 10, said: We all feel very proud We found out she was an artist and she lived in Stretford from 1912, and she liked drawing children too.
Year 4 pupil Mia Woodhams–Nunes, aged 9, said: "We liked looking at her pictures from a long time ago, they are like cartoons and they are very colourful." Year 2 pupil Elsie Patel, aged 7 said: "It's amazing that everyone can see our drawings." Year 3 pupil Nawres Hamrouni, aged 8, added: "It makes me feel happy."
Eight children from Lostock College, aged 11 to 16, designed the adjacent mural  including a number iconic Stretford landmarks including the Essoldo Cinema, Stretford Civic Hall, Stretford Town Hall, and St Matthew's Church.
Lostock College art teacher Lindsey Davies said the work will contribute towards some of the children's GCSE portfolios.
She said: "We wanted to pay tribute to some of Stretford's famous people and places as a tribute to the local culture and heritage. The children are absolutely delighted with how it's turned out. It's fantastic.
"We've got the 256 bus that goes through Stretford, famous people like Morrissey and Lowry, and iconic buildings such as Stretford Civic Hall, which was formerly the Civic Theatre, and was commissioned by John Rylands. He lived in Stretford and was Manchester's first ever multi-millionaire."
"We've also featured Stretford Town Hall, the former Essoldo cinema, and St Matthew's church which is on Chester Road next to Stretford Mall, and the chapel near Longford park which John Rylands also designed."
"I had a huge sense of pride seeing the finished piece, seeing what the students can achieve is what makes my job so rewarding."
Year 9 pupil at Lostock College Joe Roebuck aged 14, said: "I feel like I'm worth something when I see it, I really enjoyed doing it."
Fellow Year 9 pupil at Lostock College Yoana Nikolova, aged 14, said: "It's really cool to see it finished, it makes me feel really proud of my school and my friends and everyone who took part."
Matt Mason, Senior Associate from Altrincham-based Pozzoni architects which helped deliver the project, said: "It looks fantastic. The teachers and the pupils have worked really hard on it for months and it's paid off. 
"The original idea to pay tribute to the people and places of Stretford was exactly what we were looking for in terms of celebrating the heritage of the area.
"The two murals are completely different in terms of style and the medium, one being colourful and made up of small works, and the other a black and white montage. The contrast is great, they are both brilliant."
Dave Evans and his son Alex Evans of Corner House Design & Print Ltd who transformed the children's paintings into the giant murals, coated in weather and graffiti-proof vinyl, said: " It's  been a really rewarding project to work on.
"It was a pleasure and a privilege to be involved, we are local to Stretford and so this means a lot to us. To see the murals in place is fantastic."
---
Issued for & on behalf Ceidiog Communication