A master-built version of the first edition of one of the most iconic electric guitars of all time, the Fender Stratocaster, features in Richard Winterton's Technology & Railwayana Sale at The Lichfield Auction Centre in Fradley Park on Tuesday, November 5.
The Fender Custom Shop 50th anniversary Strat is being sold on behalf of a client from Handsacre, who visited during one of the Wood End Lane auction centre's weekly Tuesday valuation events.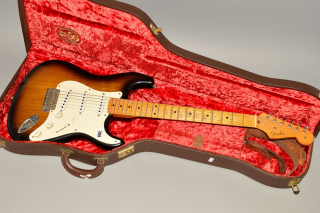 Built by esteemed luthier Art Esparaza in 2004, two years before he left Fender after 18 years, this is a replica of Leo Fender's legendary 1954 model with a two tone tobacco sunburst finish over a '54 contour ash body, with an antique white scratchplate and original three-way pickup selector switch.
The one piece maple neck has a 'relic' worn fingerboard and the guitar comes in a brown 'form-fit' hard case, again a replica of the 1954 case, embroidered with 50th anniversary emblem and complete with Fender Custom Shop Certificate.
The guitar is expected to fetch at least £1,500.
Also up for sale is a rare handmade jazz guitar from the same Handsacre client.
The deep-bodied single cutaway Jazz F was handcrafted by world-renowned Leicestershire luthier David Hodson.
Hodson, who died in 2007, was largely known for making Macaferri-style acoustic instruments made famous by legendary guitarist Django Rheinhart.
"This is a particularly lovely jazz guitar but it's a dream to play whatever your style of music," said valuer Stuart Hay.
"It has a solid spruce top with two F holes, burr wood sides and back with a mahogany neck, rosewood fingerboard and a P90 style pickup mounted in the neck position.
"The headstock has the gold David Hodson decal and to the rear is a Gordon Giltrap signature decal – so it's an instrument made by one of the country's most revered luthiers and linked to one of the most revered guitarists of his generation."
Complete with hard case, the guitar is expected to fetch at least £500.
A boutique amplifier from the same Handsacre home also features in the auction. The American-made 40 watt Victoria Amp Company combo is worth up to £500.
The sale features a host of other instruments including a clavier with seven octave keyboard, a banjo dating back to 1900 and a 'silent' ukulele.
A cache of "highly collectable" LPs discovered in a derelict property provided one of Mr Hay's highlights.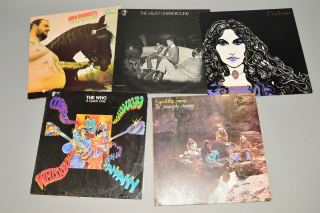 They include a near mint copy of the 1971 LP Fuchsia by Fuchsia – an early example of British progressive folk-inspired rock, itself worth up to £400.
There is also a copy of The Velvet Underground with the split picture rear cover, Kip of the Serenes by Dr Strangeley Strange with an orange and black swirl, John Drummer's Famous Music Band and A Quick One by The Who with a blue and silver label.
"They all came from a house which was virtually derelict," said Mr Hay.
"Quite simply, it's the nicest record collection I've ever come across. There's six boxes of records worth about £3,000.
"It was a nice surprise to find to put it mildly."
Other LPs in the sale include a huge jazz and blues collection, a complete set of classic Led Zeppelin LPs including In Through The Out Door with original paper outer sleeve and a collection of vintage records by The Doors.
The technology sale also features music players including comprehensive Naim Audio hi-fi equipment old and new collectively worth at least £4,500 and two Reid & Sigrist Reid 3 Rangefinder cameras.
The Railwayana section boasts a varied selection of photographs, lamps and signs including an aluminium Intercity Swallow emblem from the right hand side of a locomotive.
Circa 1990s, it is 87cm high by 79cm wide and is expected to fetch £300.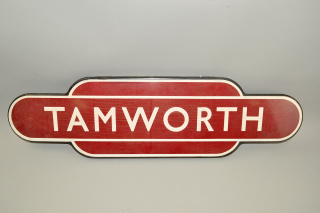 Other signs include an original 'totem' from Tamworth Railway Station, worth £400, and a cast iron railway sign warning 'Any person who omits to shut and fasten this gate is liable to a penalty not exceeding forty shillings'.
Coming from Weybourne Station in Norfolk, the 103cm-long sign is stamped GNRS to the rear and is valued at around £80.
Richard Winterton's Technology & Railwayana Sale at The Lichfield Auction Centre starts at noon on Tuesday, November 5.
Viewing takes place on Saturday, November 2, from 9.30am-12pm at The Lichfield Auction Centre, Wood End Lane, Fradley Park; again on Monday, November 4 from 9am-4pm and on the morning of sale from 8.30am.