Pal of WWI soldier shot by sniper buried him and drew map so family could find his body
More remarkable yet, the communication from a friend of Sergeant Charles Barker included a hand-drawn map showing where he personally buried his friend near the battlefield.
The archive, including Sgt Barker's Military Medal and other decorations, is estimated to fetch between £500 and £800 when it goes under the hammer as Lot 201 in the specialist militaria section of Richard Winterton Auctioneers' online-only Antiques & Home Sale live from The Lichfield Auction Centre from 9.30am on Monday, December 14.
"Just when you think you have seen everything in the world of military medals, this First World War archive landed on my desk," said militaria specialist Nick Thompson.
It's an exceptional family group with much scope for further research and includes one of the most personal and poignant letters I've ever encountered."
Having entered the in France war serving with the East Yorkshire Regiment, Barker had transferred to the 31st Battalion Machine Gun Corps – aka the 'Suicide Squad' – and had already earned the Military Medal for his bravery.
What happened next powerfully demonstrates both the horror of war and the comradeship between soldiers.
In April 1918, while commanding the battalion to retreat at Merris near the Belgian border, a German sniper managed to get Sgt Barker in his sights and shot him in the head.
Barker's pal, a Sergeant H Kyte, was standing next to his friend and, realising he would not be able to save the dying 29-year-old, made his final minutes as comfortable as he could before he passed away in his arms.
Kyte then pulled his friend's body from the battlefield into a nearby field, buried him in the mist of gunfire – and later drew the detailed map which he sent with the letter so Barker's relatives could locate him.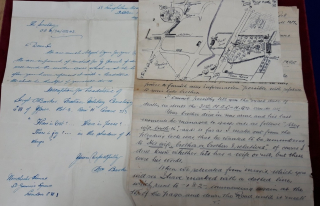 Addressed to the family of sergeant C. Barker, of machine gun corps, it provides a harrowing account of the soldier's last minutes.
Handwritten in June 1918 and then later typed up – both copies are in the archive – the document details how Barker was choking for breath saying 'my wife' before succumbing to his wound. 
In the letter, Sgt Kyte says: "I will do all I can to gather information about your late brother.
"Your brother died in my arms and in his last moments he managed to gasp out 'my wife, brother'.
"As far as I can make out from his pleading look he wanted to be remembered to his wife, brother, brother or relatives.
"Of course, I do not know if he has a wife or not [but] these were his words."
Kyte then goes on to discuss what happened to Barker in detail as well as providing a pencil-drawn map of his resting place.
This proved invaluable too as authorities used it to find Barker's body for reinterment in Meteren Military Cemetery a few miles away.
A letter from the Commonwealth War Graves Commission is part of the archive.
"This is all just such a special piece of history and holding the original map and letter more than a century later brings that history to life in an incredibly powerful way," added Mr Thompson.
"It really gives you a sense of just how horrific the war was – that this man dragged his fallen comrade and buried him while gunshots were flying over their heads.
"Many, many casualty groups of medals have passed through my hands over the years yet none have had quite such a poignant effect than this group."
The collection includes Barker's Military Medal, 1914-15 Star Trio and Memorial Death Plaque in its original brown card holder and there are several original portrait postcard photos of Barker in uniform plus other framed family portraits.
Barker's brother served in the Royal Engineers and survived the war, although became of him since is unknown.
His 1914-15 Star Trio of medals, named to 7569 Sapper F Barker Royal Engineers, is included in the archive.
There are also a number of WW1 era shell cases, badges, collar dogs, pieces of shrapnel and other items in a 1914 Princess Mary Tin.
Other lots in the sale include medals, WWII-era Japanese swords, uniforms, caps, WWI helmets, equipment such as periscopes, optics, field telephones and ammunition boxes, antique firearms and even the brass ship's bell from the submarine HMS Tradewind 1943.
View the catalogue online now via bit.ly/AuctionDates.
To book an appointment for a free valuation of medals or militaria with Nick Thompson, email office@richardwinterton.co.uk or telephone 01543 406124.
Nick can also be contacted directly for virtual estimates via medals@richardwinterton.co.uk.