Goal! FA Cup sells for thousands in Lichfield auction
A RARE replica of the FA Cup has sold at auction in Lichfield for thousands of pounds just days before the 2021 final between Chelsea v Leicester City.
The 66cm tall shining silver lustred likeness is in fact crafted from ceramic with a platinum glaze and comes in three parts – the cup itself, the lid and base – just like the real thing and the internal glaze is coloured bronze to resemble Champagne stains left by decades of victories.
It went under the hammer with Richard Winterton Auctioneers live from The Lichfield Auction Centre on Monday, May 10, eventually selling way above estimate to a telephone bidder for £3,300.
"The replica was uncanny – undoubtedly a real goal for any football fan," said auctioneer Richard Winterton.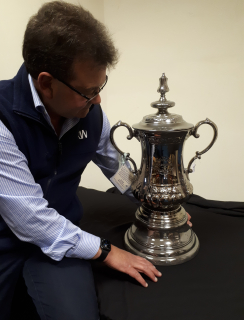 After lengthy negotiations, Portmeirion Pottery was given permission by FA secretary Ted Croker to produce limited edition scale replicas in 1979 and the cup was inspected at Highbury, as Arsenal held the trophy at the time.
Portmeirion invested 100 hours of modelling to reproduce the trophy commemorating the 1980 FA Cup Final between West Ham United and Arsenal, won 1-0 by West Ham at Wembley on May 10 – coincidentally the same date the replica went under the hammer.
But high production costs proved prohibitive and the replica never went into full commercial production.
Mr Winterton added: "We had a huge amount of interest and its appeal to collectors is furthered still as no-one can really be sure how many of these reproductions are in existence.
"This particular replica is numbered 19 of 500 but it's actually estimated that fewer than 200 were produced before the project was dropped in 1980."
On Wednesday, the Lichfield auctioneer launches the latest timed sale of collectable Pokémon.
It features some of the world's most sought-after Pokémon trading cards including a complete first edition Base Card set, which is anticipated to sell for £25,000.
The sale will start to close from noon on Wednesday, May 19, and the online catalogue will be available from 9am on May 12 at bid.richardwinterton.co.uk/auctions/7812/srric10250
And on Thursday, May 13, some of Britain's most coveted postage stamps will go under the hammer in Lichfield.
Richard Winterton Auctioneers' Stamps & Postal History Sale includes fine and rare Great Britain stamps together with a collection of 4,500 postcards showcasing the Lake District's rich heritage from the Edwardian era to the mid-20th century.
Sir Malcom Campbell's Blue Bird K4 on Coniston Water, the Miss England II disaster on Lake Windermere, working practices from bygone Cumbria and evocative images of the Lake District all feature.
Online catalogues for all auctions are available to view via www.richardwinterton.co.uk/auction-dates.
In-person valuations for jewellery, watches and silver as well as general valuations at The Lichfield Auction Centre can be booked strictly by appointment only between 9.30am-4pm on Thursdays. Telephone 01543 406124 or email office@richardwinterton.co.uk.