Quiz Night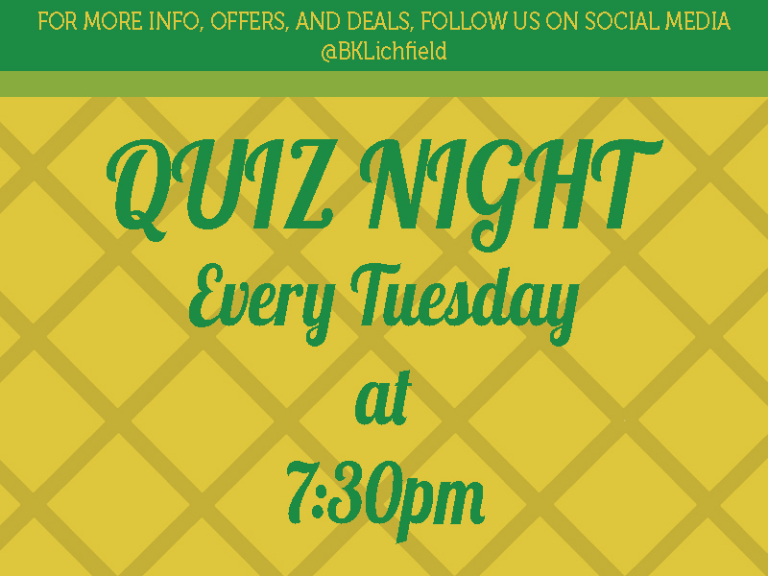 Quiz Night at Brewhouse & Kitchen, Lichfield. £1 a person, every Tuesday with a 7:30pm start and a cash prize.
Brewhouse & Kitchen run a quiz night every Tuesday. Starting at 7:30pm, there is a cash prize and it only costs £1 per team member to play! Plus, you can have as many in a team as you like. We have rounds to suit everybody, from Current Affairs and the Golden Year, to a Picture Round and our Specialist Round - everybody and anybody can contribute to your team!
Occassionally, there is a themed quiz. In the past there has been a Halloween Quiz, a Christmas Quiz, and a Big Fat Quiz of 2017. All proceeds from these quizzes go to charity, and there are plenty of top notch Brewhouse themed prizes on offer, which have included Brewing Masterclasses, minikegs of your favourite Brewhouse beers, and meal vouchers. 
For more information, find on social media @BKLichfield, or pop in and ask a member of the team.
For quiz specific information, contact Pineapple Quizzes at pineapplequizzes@gmail.com
Future dates
Tuesday 18th December 7:30pm until 9:00pm
Tuesday 8th January 7:30pm until 9:00pm
Tuesday 15th January 7:30pm until 9:00pm