Market Days in Lichfield
Market Square
Lichfield
Staffordshire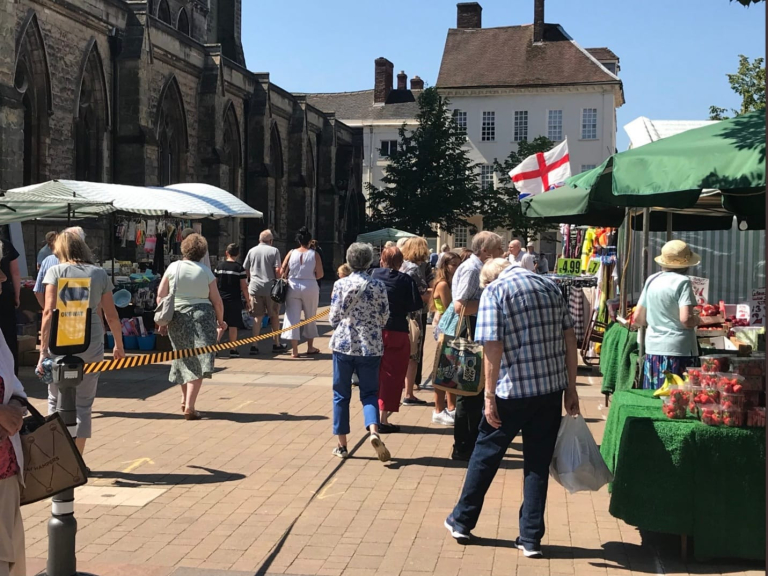 The historic Market Square has been the home for Lichfield markets since King Stephen granted the first markets charter in 1153.
The Market Square has also been central to many scenes in Lichfield's history. In the 1550's, during the reign of 'bloody' Queen Mary, Thomas Hayward, John Goreway and Joyce Lewis were burnt at the stake on the Square. Then in 1612 Edward Wightman was convicted of heresy and burnt at the stake on the Square - the last person so to die in England.
General Market Days are Tuesday's, Friday's & Saturday's. Social distancing measures currently in place.
Sunday 2nd August Lichfield Producers Market. This will take place every first Sunday of the month.
If you are interested in trading on the General Markets please contact the Markets Officer - Telephone 01543 309853 or Email markets@lichfield.gov.uk
Future dates
Saturday 28th November 10:00am until 4:00pm
Tuesday 1st December 10:00am until 4:00pm
Friday 4th December 10:00am until 4:00pm
Saturday 5th December 10:00am until 4:00pm
Tuesday 8th December 10:00am until 4:00pm
Friday 11th December 10:00am until 4:00pm
Saturday 12th December 10:00am until 4:00pm
Tuesday 15th December 10:00am until 4:00pm
Friday 18th December 10:00am until 4:00pm
Saturday 19th December 10:00am until 4:00pm
Tuesday 22nd December 10:00am until 4:00pm
Friday 25th December 10:00am until 4:00pm
Saturday 26th December 10:00am until 4:00pm
Tuesday 29th December 10:00am until 4:00pm
Friday 1st January 10:00am until 4:00pm
Saturday 2nd January 10:00am until 4:00pm
Tuesday 5th January 10:00am until 4:00pm
Friday 8th January 10:00am until 4:00pm
Saturday 9th January 10:00am until 4:00pm
Tuesday 12th January 10:00am until 4:00pm
Friday 15th January 10:00am until 4:00pm
Saturday 16th January 10:00am until 4:00pm
Tuesday 19th January 10:00am until 4:00pm
Friday 22nd January 10:00am until 4:00pm
Saturday 23rd January 10:00am until 4:00pm
Tuesday 26th January 10:00am until 4:00pm
Friday 29th January 10:00am until 4:00pm
Saturday 30th January 10:00am until 4:00pm
Tuesday 2nd February 10:00am until 4:00pm
Friday 5th February 10:00am until 4:00pm
Saturday 6th February 10:00am until 4:00pm
Tuesday 9th February 10:00am until 4:00pm
Friday 12th February 10:00am until 4:00pm
Saturday 13th February 10:00am until 4:00pm
Tuesday 16th February 10:00am until 4:00pm
Friday 19th February 10:00am until 4:00pm
Saturday 20th February 10:00am until 4:00pm
Tuesday 23rd February 10:00am until 4:00pm
Friday 26th February 10:00am until 4:00pm
Saturday 27th February 10:00am until 4:00pm
Tuesday 2nd March 10:00am until 4:00pm
Friday 5th March 10:00am until 4:00pm
Saturday 6th March 10:00am until 4:00pm
Tuesday 9th March 10:00am until 4:00pm
Friday 12th March 10:00am until 4:00pm
Saturday 13th March 10:00am until 4:00pm
Tuesday 16th March 10:00am until 4:00pm
Friday 19th March 10:00am until 4:00pm
Saturday 20th March 10:00am until 4:00pm
Tuesday 23rd March 10:00am until 4:00pm
Friday 26th March 10:00am until 4:00pm
Saturday 27th March 10:00am until 4:00pm
Tuesday 30th March 10:00am until 4:00pm
Friday 2nd April 10:00am until 4:00pm
Saturday 3rd April 10:00am until 4:00pm