Little Friends
St John's Community Church
High Street
Chase Terrace
Burntwood
WS7 1LR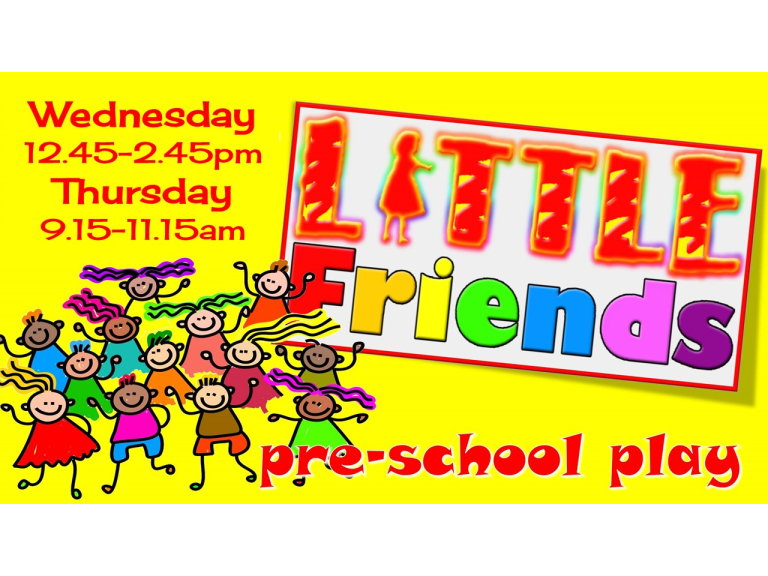 'Little Friends' is our pre-school group for babies, toddlers, their parents & carers on Wednesday afternoons & Thursday mornings during term-time.
'Little Friends' meets twice a week in term time: Wednesday afternoons at 12.45pm-2.45pm, & Thursday mornings 9.15am-11.15am.
It's a fantastic time of play, craft, snacks & singing.
If you'd like to bring your little one(s), just come along - we'd love to see you!
Sessions cost £1.50 per child, or £2 for two children.
Thursdays are generally busier than Wednesdays, & we do get pretty full as the year progresses, but we'll do our best to squeeze you in!
Future dates
Wednesday 26th February 12:45pm until 2:45pm
Thursday 27th February 9:15am until 11:15am
Wednesday 4th March 12:45pm until 2:45pm
Thursday 5th March 9:15am until 11:15am
Wednesday 11th March 12:45pm until 2:45pm
Thursday 12th March 9:15am until 11:15am
Wednesday 18th March 12:45pm until 2:45pm
Thursday 19th March 9:15am until 11:15am
Wednesday 25th March 12:45pm until 2:45pm
Thursday 26th March 9:15am until 11:15am
Wednesday 1st April 12:45pm until 2:45pm
Thursday 2nd April 9:15am until 11:15am
Thursday 9th April 9:15am until 11:15am
Thursday 16th April 9:15am until 11:15am
Wednesday 22nd April 12:45pm until 2:45pm
Thursday 23rd April 9:15am until 11:15am
Wednesday 29th April 12:45pm until 2:45pm
Thursday 30th April 9:15am until 11:15am
Wednesday 6th May 12:45pm until 2:45pm
Thursday 7th May 9:15am until 11:15am
Wednesday 13th May 12:45pm until 2:45pm
Thursday 14th May 9:15am until 11:15am
Wednesday 20th May 12:45pm until 2:45pm
Thursday 21st May 9:15am until 11:15am
Thursday 28th May 9:15am until 11:15am
Wednesday 3rd June 12:45pm until 2:45pm
Thursday 4th June 9:15am until 11:15am
Wednesday 10th June 12:45pm until 2:45pm
Thursday 11th June 9:15am until 11:15am
Wednesday 17th June 12:45pm until 2:45pm
Thursday 18th June 9:15am until 11:15am
Wednesday 24th June 12:45pm until 2:45pm
Thursday 25th June 9:15am until 11:15am
Wednesday 1st July 12:45pm until 2:45pm
Thursday 2nd July 9:15am until 11:15am
Wednesday 8th July 12:45pm until 2:45pm
Thursday 9th July 9:15am until 11:15am
Wednesday 15th July 12:45pm until 2:45pm
Thursday 16th July 9:15am until 11:15am
Wednesday 29th July 12:45pm until 2:45pm
Wednesday 12th August 12:45pm until 2:45pm
Thursday 3rd September 9:15am until 11:15am
Thursday 10th September 9:15am until 11:15am
Thursday 17th September 9:15am until 11:15am
Thursday 24th September 9:15am until 11:15am
Thursday 1st October 9:15am until 11:15am
Thursday 8th October 9:15am until 11:15am
Thursday 15th October 9:15am until 11:15am
Thursday 22nd October 9:15am until 11:15am
Thursday 29th October 9:15am until 11:15am
Thursday 5th November 9:15am until 11:15am
Thursday 12th November 9:15am until 11:15am
Thursday 19th November 9:15am until 11:15am
Thursday 26th November 9:15am until 11:15am
Thursday 3rd December 9:15am until 11:15am
Thursday 10th December 9:15am until 11:15am
Thursday 7th January 9:15am until 11:15am
Thursday 14th January 9:15am until 11:15am
Thursday 21st January 9:15am until 11:15am
Thursday 28th January 9:15am until 11:15am
Thursday 4th February 9:15am until 11:15am
Thursday 11th February 9:15am until 11:15am
Thursday 18th February 9:15am until 11:15am
Thursday 25th February 9:15am until 11:15am
Thursday 4th March 9:15am until 11:15am
Thursday 11th March 9:15am until 11:15am
Thursday 18th March 9:15am until 11:15am
Thursday 25th March 9:15am until 11:15am
Thursday 1st April 9:15am until 11:15am
Thursday 8th April 9:15am until 11:15am
Thursday 15th April 9:15am until 11:15am
Thursday 22nd April 9:15am until 11:15am
Thursday 29th April 9:15am until 11:15am
Thursday 6th May 9:15am until 11:15am
Thursday 13th May 9:15am until 11:15am
Thursday 20th May 9:15am until 11:15am
Thursday 27th May 9:15am until 11:15am
Thursday 3rd June 9:15am until 11:15am
Thursday 10th June 9:15am until 11:15am
Thursday 17th June 9:15am until 11:15am
Thursday 24th June 9:15am until 11:15am
Thursday 1st July 9:15am until 11:15am
Thursday 8th July 9:15am until 11:15am
Thursday 15th July 9:15am until 11:15am
Thursday 22nd July 9:15am until 11:15am