Little Farmers Soft Play at Bradshaw's Farm Shop & Café
Bleak House Farm
Ironstone Road
Burntwood
Staffordshire
WS7 1YL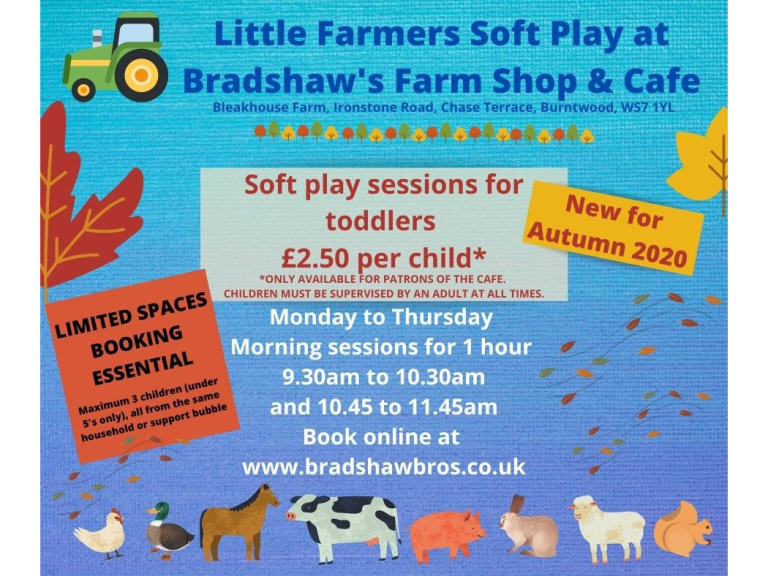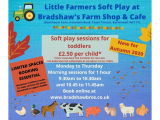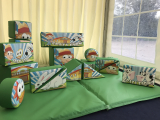 Your little ones will certainly be able to let off some steam at the newly created Soft Play at Bradshaw's Farm Shop & Café.
Customers visiting the cafe will be able to book a session in the newly created small soft play area within the marquee. 
Sessions are for small groups of up to 3 children aged 0-5, from 9.30 am to 10.30 am and 10.45am to 11.45am, Monday to Thursday. The cost is £2.50 per child and is only available to customers using the Cafe.
For safety, all children for each session will be from the same household or support bubble. All soft play surfaces will be thoroughly cleaned between each session. Please follow current government guidelines with regards to social distancing, face coverings and hand washing/sanitizing.
All children must be supervised by an adult at all times.
Booking is essential. Book here right now.

Future dates
Monday 30th November 10:45am until 11:45am
Tuesday 1st December 9:30am until 10:30am
Tuesday 1st December 10:45am until 11:45am
Wednesday 2nd December 9:30am until 10:30am
Wednesday 2nd December 10:45am until 11:45am
Thursday 3rd December 9:30am until 10:30am
Thursday 3rd December 10:45am until 11:45am
Monday 7th December 9:30am until 10:30am
Monday 7th December 10:45am until 11:45am
Tuesday 8th December 9:30am until 10:30am
Tuesday 8th December 10:45am until 11:45am
Wednesday 9th December 9:30am until 10:30am
Wednesday 9th December 10:45am until 11:45am
Thursday 10th December 9:30am until 10:30am
Thursday 10th December 10:45am until 11:45am
Monday 14th December 9:30am until 10:30am
Monday 14th December 10:45am until 11:45am
Tuesday 15th December 9:30am until 10:30am
Tuesday 15th December 10:45am until 11:45am
Wednesday 16th December 9:30am until 10:30am
Wednesday 16th December 10:45am until 11:45am
Thursday 17th December 9:30am until 10:30am
Thursday 17th December 10:45am until 11:45am
Monday 21st December 9:30am until 10:30am
Monday 21st December 10:45am until 11:45am
Tuesday 22nd December 9:30am until 10:30am
Tuesday 22nd December 10:45am until 11:45am
Wednesday 23rd December 9:30am until 10:30am
Wednesday 23rd December 10:45am until 11:45am
Thursday 24th December 9:30am until 10:30am
Thursday 24th December 10:45am until 11:45am
Monday 28th December 9:30am until 10:30am
Monday 28th December 10:45am until 11:45am
Tuesday 29th December 9:30am until 10:30am
Tuesday 29th December 10:45am until 11:45am
Wednesday 30th December 9:30am until 10:30am
Wednesday 30th December 10:45am until 11:45am
Thursday 31st December 9:30am until 10:30am
Thursday 31st December 10:45am until 11:45am
Monday 4th January 9:30am until 10:30am
Monday 4th January 10:45am until 11:45am
Tuesday 5th January 9:30am until 10:30am
Tuesday 5th January 10:45am until 11:45am
Wednesday 6th January 9:30am until 10:30am
Wednesday 6th January 10:45am until 11:45am
Thursday 7th January 9:30am until 10:30am
Thursday 7th January 10:45am until 11:45am
Monday 11th January 9:30am until 10:30am
Tuesday 12th January 9:30am until 10:30am
Tuesday 12th January 10:45am until 11:45am
Wednesday 13th January 9:30am until 10:30am
Wednesday 13th January 10:45am until 11:45am
Thursday 14th January 9:30am until 10:30am
Thursday 14th January 10:45am until 11:45am