ARTclass@TheRedCarpet
The Red Carpet Cinema & Cafe Bar
Barton Marina
Barton under Needwood
Staffordshire
DE13 8AS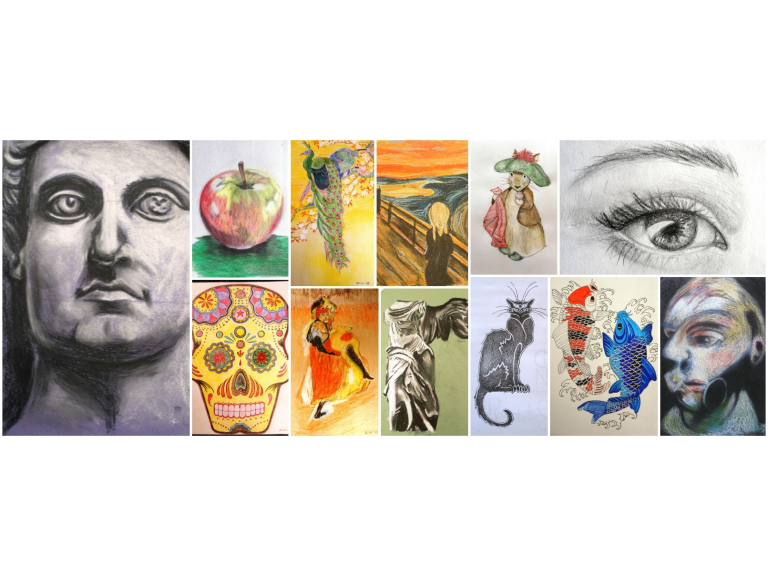 Art Class for Beginners and Budding Artists at The Red Carpet Cinema, Barton Marina - Tuesday and Thursday Mornings
Whether you are a beginner, a budding Artist, coming back to Art or just want to play and chat and have a coffee, these classes are short lessons, some just for fun, mostly easy, and hopefully you will be surprised at what you can do!..   
Based around Fine Art drawing and painting techniques, illustration and design, with step by step instructions from me, you can learn; measuring, proportion, composition, modelling and mark-making..
Each half-term we have a topic, Autumn/ Halloween, Winter/Xmas, People/Faces, Nature/Illustration, and each week we do a new picture..
I provide you with lots of different materials so that you start to understand what to use for what, what you like and don't like, or come to love something you used to hate.
With; pencil, charcoal and chalk, ink, coloured pencil, felt tip, soft pastel, oil pastel and watercolours ..
As the weeks continue you can build on your skills and put into practice what you've learned with the freedom to develop your own style, or just enjoy a couple of quiet hours doodling and only thinking about Art…
Book your place ONLINE right here. 
Future dates
Thursday 18th August 10:00am until 12:00pm
Tuesday 23rd August 10:00am until 12:00pm
Thursday 25th August 10:00am until 12:00pm
Tuesday 30th August 10:00am until 12:00pm
Thursday 1st September 10:00am until 12:00pm
Tuesday 6th September 10:00am until 12:00pm
Thursday 8th September 10:00am until 12:00pm
Tuesday 13th September 10:00am until 12:00pm
Thursday 15th September 10:00am until 12:00pm
Tuesday 20th September 10:00am until 12:00pm
Thursday 22nd September 10:00am until 12:00pm
Tuesday 27th September 10:00am until 12:00pm
Thursday 29th September 10:00am until 12:00pm
Tuesday 4th October 10:00am until 12:00pm
Thursday 6th October 10:00am until 12:00pm
Tuesday 11th October 10:00am until 12:00pm
Thursday 13th October 10:00am until 12:00pm
Tuesday 18th October 10:00am until 12:00pm
Thursday 20th October 10:00am until 12:00pm
Tuesday 25th October 10:00am until 12:00pm
Thursday 27th October 10:00am until 12:00pm
Tuesday 1st November 10:00am until 12:00pm
Thursday 3rd November 10:00am until 12:00pm
Tuesday 8th November 10:00am until 12:00pm
Thursday 10th November 10:00am until 12:00pm
Tuesday 15th November 10:00am until 12:00pm
Thursday 17th November 10:00am until 12:00pm
Tuesday 22nd November 10:00am until 12:00pm
Thursday 24th November 10:00am until 12:00pm
Tuesday 29th November 10:00am until 12:00pm
Thursday 1st December 10:00am until 12:00pm
Tuesday 6th December 10:00am until 12:00pm
Thursday 8th December 10:00am until 12:00pm
Tuesday 13th December 10:00am until 12:00pm
Thursday 15th December 10:00am until 12:00pm
Tuesday 20th December 10:00am until 12:00pm
Thursday 22nd December 10:00am until 12:00pm
Tuesday 27th December 10:00am until 12:00pm
Thursday 29th December 10:00am until 12:00pm
Tuesday 3rd January 10:00am until 12:00pm
Thursday 5th January 10:00am until 12:00pm
Tuesday 10th January 10:00am until 12:00pm
Thursday 12th January 10:00am until 12:00pm
Tuesday 17th January 10:00am until 12:00pm
Thursday 19th January 10:00am until 12:00pm
Tuesday 24th January 10:00am until 12:00pm
Thursday 26th January 10:00am until 12:00pm
Tuesday 31st January 10:00am until 12:00pm
Thursday 2nd February 10:00am until 12:00pm
Tuesday 7th February 10:00am until 12:00pm
Thursday 9th February 10:00am until 12:00pm
Tuesday 14th February 10:00am until 12:00pm
Thursday 16th February 10:00am until 12:00pm
Tuesday 21st February 10:00am until 12:00pm
Thursday 23rd February 10:00am until 12:00pm
Tuesday 28th February 10:00am until 12:00pm
Thursday 2nd March 10:00am until 12:00pm
Tuesday 7th March 10:00am until 12:00pm
Thursday 9th March 10:00am until 12:00pm
Tuesday 14th March 10:00am until 12:00pm
Thursday 16th March 10:00am until 12:00pm
Tuesday 21st March 10:00am until 12:00pm
Thursday 23rd March 10:00am until 12:00pm
Tuesday 28th March 10:00am until 12:00pm
Thursday 30th March 10:00am until 12:00pm
Tuesday 4th April 10:00am until 12:00pm
Thursday 6th April 10:00am until 12:00pm
Tuesday 11th April 10:00am until 12:00pm
Thursday 13th April 10:00am until 12:00pm
Tuesday 18th April 10:00am until 12:00pm
Thursday 20th April 10:00am until 12:00pm
Tuesday 25th April 10:00am until 12:00pm
Thursday 27th April 10:00am until 12:00pm
Tuesday 2nd May 10:00am until 12:00pm
Thursday 4th May 10:00am until 12:00pm
Tuesday 9th May 10:00am until 12:00pm
Thursday 11th May 10:00am until 12:00pm
Tuesday 16th May 10:00am until 12:00pm
Thursday 18th May 10:00am until 12:00pm
Tuesday 23rd May 10:00am until 12:00pm
Thursday 25th May 10:00am until 12:00pm
Tuesday 30th May 10:00am until 12:00pm
Thursday 1st June 10:00am until 12:00pm
Tuesday 6th June 10:00am until 12:00pm
Thursday 8th June 10:00am until 12:00pm
Tuesday 13th June 10:00am until 12:00pm
Thursday 15th June 10:00am until 12:00pm
Tuesday 20th June 10:00am until 12:00pm
Thursday 22nd June 10:00am until 12:00pm
Tuesday 27th June 10:00am until 12:00pm
Thursday 29th June 10:00am until 12:00pm
Tuesday 4th July 10:00am until 12:00pm
Thursday 6th July 10:00am until 12:00pm
Tuesday 11th July 10:00am until 12:00pm
Thursday 13th July 10:00am until 12:00pm
Tuesday 18th July 10:00am until 12:00pm
Thursday 20th July 10:00am until 12:00pm
Tuesday 25th July 10:00am until 12:00pm
Thursday 27th July 10:00am until 12:00pm
Tuesday 1st August 10:00am until 12:00pm
Thursday 3rd August 10:00am until 12:00pm
Tuesday 8th August 10:00am until 12:00pm
Thursday 10th August 10:00am until 12:00pm