Thunder & Lightning - Very, Very Frightening
31st May 2012
... Comments
---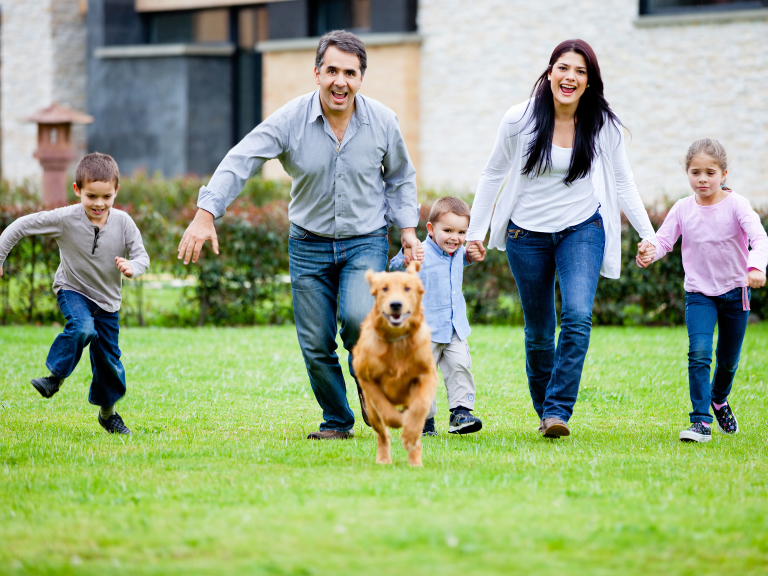 Thunder and lightning can be frightening! Many of us with pets know that storms can be very upsetting to our pets. Cat's tend to look after themselves but there are a few things that we can do for our dogs. Here is some advice from our Behaviourist Shelley Aspden Bsc (Hons) MSc.
Storm Tip 1: Providing a den for your pet to escape to will help to satisfy their natural instinct to escape danger. Your pet's favourite place to escape to maybe under the table, behind the sofa or under your bed. Putting your pet's bedding in this area and allowing them to retreat here, will help them to feel secure and safe.

Storm Tip 2: Place an article of your clothing inside your pet's den. This will act as a comfort blanket for your pet.

Storm Tip 3: If you know there is a thunder storm forecasted; walk your dog in plenty of time to avoid it. An exercised dog may rest and be calmer during a thunderstorm.

Storm Tip 4: Do not reward your pet's fearful behaviour with attention or comfort as this may make their behaviour worse.

Storm Tip 5: To help reduce your pet's stress, it is important that you stay calm and relaxed during a thunderstorm. Never punish your pet for any fearful behaviour; this will only make the problem worse.

Storm Tip 6: Try to avoid leaving your pet home alone during a thunderstorm! Your pet will feel a lot more relaxed and secure when you are at home.

Storm Tip 7: This one is for cats.... To help your cat feel secure, introduce a covered cat litter tray and raise their bed off the floor. Close internal doors and curtains in your home and turn on a talk radio or TV to help drown out the loud noise of the thunder storm. That is... if you can find your cat in the first place...!

Storm Tip 8: Speak to your Oscar Nutritional Advisor about a product called 'Calm' by NAF (Natural Animal Feeds). This is a herbal calming solution, designed to help highly strung dogs with stressful situations.
If you'd like bespoke advice (not just a fact sheet) about any aspect of your dog's behaviour then please get in touch with Oscar Pet Foods Pet Behaviour Counsellor; Shelley Aspden BSc (Hons) MSc
0800 195 8000

helpline@oscars.co.uk

www.facebook.co.uk/OscarMuchMoreThanPetFood

www.twitter.com/OscarsTwelpline
Shelley is a provisional member of the APBC (Association of Pet Behaviour Counsellors)
For information about OSCAR Pet Foods locally visit their Feature on the bestof Lancaster at http://www.thebestof.co.uk/local/lancaster/business-guide/feature/oscar/89193
Or contact Darren Cuerden Tel: 07427 590100 Email: dcuerden@hotmail.com