CancerCare FireWalk at Vale of Lune Rugby Club, Lancaster
19th August 2013
... Comments
---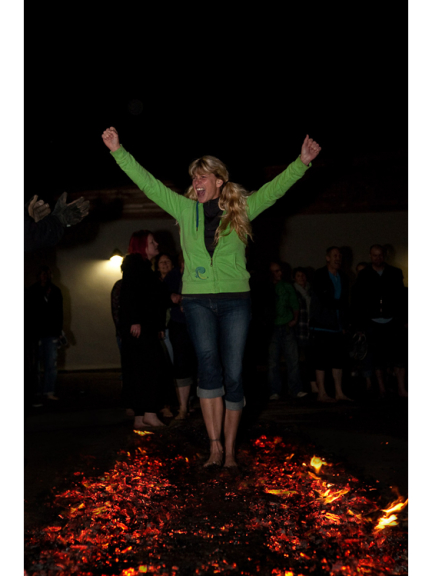 CancerCare FireWalk at Vale of Lune Rugby Club, Lancaster
Take part in the hottest ever sponsored walk!
Local cancer charity, CancerCare is calling for supporters take on the hottest ever sponsored walk and step barefoot across 20ft of embers burning at 1200°F! The annual event is organised by CancerCare in conjunction with Blaze, the national experts in Fire Walking, who will take the fire walkers through a motivational training session before they face the fiery challenge!
Jane Staniford, CancerCare's Fundraising Team Leader, who has previously taken part in a CancerCare Fire Walk, says "More people than ever need the support that CancerCare offers in our local area, so after the success of last year's Fire Walk, we've decided to host two events for 2013. The Fire Walk events will raise much needed funds so that CancerCare can continue to support people affected by cancer in our area. It also gives the people in our community the opportunity to support our much loved local charity, CancerCare. If you can do this, you can do anything!"
The Fire Walk will be followed by a BBQ and part night for all walkers, supporters and spectators.
This will be the first of two CancerCare Fire Walks in 2013, the second being held at Kendal Rugby Club on Friday 18th October. Both events will raise money to fund CancerCare's work supporting people affected by cancer in our local community.
If you want to challenge yourself and help CancerCare to continue making a difference to the lives of local people affected by cancer by joining in either of the Fire Walks, please contact the CancerCare fundraising team on 01524 381820 or download the registration form from www.cancercare.org.uk. Places are limited so register early to avoid disappointment. 
If you would like to find out more about how we can help with your local marketing view this video at video or just get in touch.
This article posted by David Morgan thebestof Lancaster. For information about the Lancaster and Morecambe area visit www.lancaster@thebestof.co.uk/lancaster or contact David by telephone on 07877 346450, by email Lancaster@thebestof.co.uk