Robotics and Autonomous Systems
Copthorne Tara Hotel, Scarsdale Place, Kensington, London, United Kingdom
W8 5SY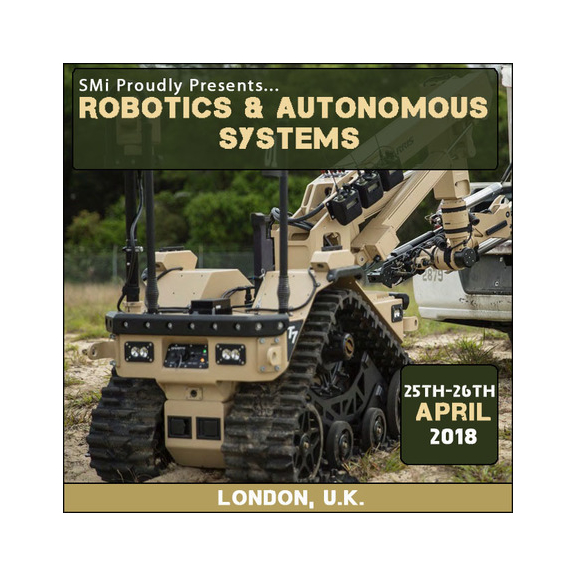 Robotic and Autonomous Systems 25th - 26th April 2018 London, UK
SMi is delighted to announce the launch of Robotics and Autonomous Systems (RAS) conference taking place in London, UK on 25th and 26th April 2018.
The UK MoD has recognised the potential of Robotic and Autonomous Systems (RAS) to provide strategic superiority in military operations. As a means to establish the opportunities a quick adoption of RAS would provide the British Army, it will conduct an important and large-scale exercise in Autumn 2018: the Army Warfighting Experiment (AWE). The purpose of the experiment will be to "connect industry technology providers with Army front line units" and to "draw on the successful models offered by the AWE and Unmanned Warrior" (Royal Navy equivalent).
In other words, the British Army is seeking to enhance its capabilities and to modernize along with the new emerging technologies.
The UK MoD established 5 priorities in the development of RAS: Sustainability, Manoeuvrability, Situational Awareness, Lethality and Survivability. These five priorities are what RAS 2018 conference will revolve around. These will additionally encompass other main themes such as counter-IED, AI, interoperability, or communication systems.

2018 Highlights:
. Hear the latest updates on the UK Ministry of Defence's Robotics and Autonomous Systems Enhancement Programmes
. Attend exclusive military briefings from the United Kingdom, Israel, the United States, Finland, and France
. Benefit from a comprehensive approach to emerging autonomous and robotic technologies with briefings from academia, defence research and procurement agencies, as well as the military
. Discuss and debate the key role of unmanned technology in supporting land operations through enhanced survivability, situational awareness, lethality, sustainability, and manoeuvrability.

Register by:
December 15th and save GBP 400
January 31st and save GBP 200
February 28th and save GBP 100
Register online at www.robotics-autonomous.com/evvnt
URLs:
Booking: https://go.evvnt.com/172063-0
Inquiries: https://go.evvnt.com/172063-1
Tickets: https://go.evvnt.com/172063-2
YouTube: https://go.evvnt.com/172063-5
Brochure: https://go.evvnt.com/172063-7
MobileApp: https://go.evvnt.com/172063-8
Periscope: https://go.evvnt.com/172063-9
Price:
standard: GBP 100
Category: Conferences | Government and Social Sector | Defence and Military