Jet Ski Experience, From Age 12+
La Haule Slip
La Neuve Route
JE3 8BS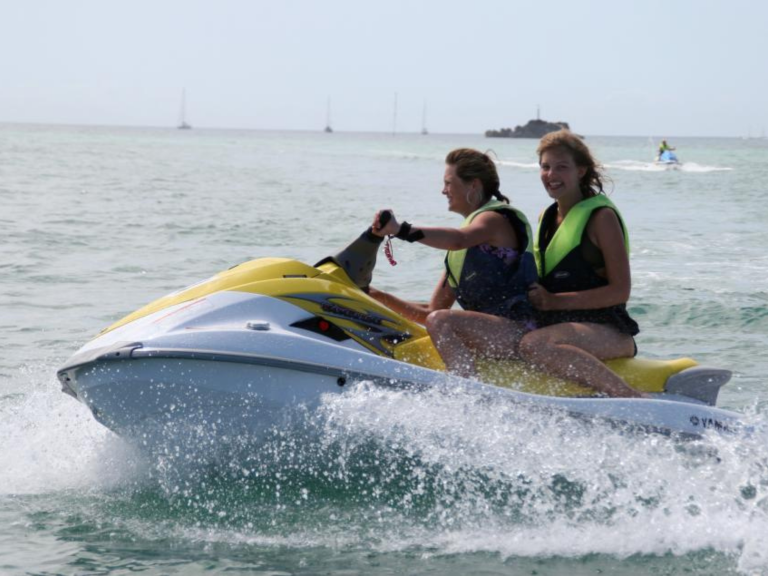 The jet ski experience is an introduction to jet skiing which includes the provision of wetsuit, buoyancy aid, full tuition, and on-water supervision.
---
You will have 30 minutes on the water, around a triangular buoyed course in St. Aubin's Bay. The jet skis are three seaters, you can drive solo from the age of 12 but you must be over 18 to take a passenger, minimum passenger age is eight.
---
The Jersey Sea Sport Centre is at La Haule, just by St. Aubin's Village. Look for the flags and the jet ski at the top of the slipway. There is free parking on the slip and on the road at the top of the slip. If catching a bus, ask to get off at La Haule.
---
Future dates
Sunday 13th June 12:00pm until 1:00pm
Sunday 13th June 1:00pm until 2:00pm
Sunday 13th June 2:00pm until 3:00pm
Sunday 13th June 3:00pm until 4:00pm
Monday 14th June 10:00am until 11:00am
Monday 14th June 11:00am until 12:00pm
Monday 14th June 12:00pm until 1:00pm
Monday 14th June 1:00pm until 2:00pm
Monday 14th June 2:00pm until 3:00pm
Monday 14th June 3:00pm until 4:00pm
Tuesday 15th June 10:00am until 11:00am
Tuesday 15th June 11:00am until 12:00pm
Tuesday 15th June 12:00pm until 1:00pm
Tuesday 15th June 1:00pm until 2:00pm
Tuesday 15th June 2:00pm until 3:00pm
Tuesday 15th June 3:00pm until 4:00pm
Wednesday 16th June 10:00am until 11:00am
Wednesday 16th June 11:00am until 12:00pm
Wednesday 16th June 12:00pm until 1:00pm
Wednesday 16th June 1:00pm until 2:00pm
Wednesday 16th June 2:00pm until 3:00pm
Wednesday 16th June 3:00pm until 4:00pm
Thursday 17th June 10:00am until 11:00am
Thursday 17th June 11:00am until 12:00pm
Thursday 17th June 12:00pm until 1:00pm
Thursday 17th June 1:00pm until 2:00pm
Thursday 17th June 2:00pm until 3:00pm
Thursday 17th June 3:00pm until 4:00pm
Friday 18th June 10:00am until 11:00am
Friday 18th June 11:00am until 12:00pm
Friday 18th June 12:00pm until 1:00pm
Friday 18th June 1:00pm until 2:00pm
Friday 18th June 2:00pm until 3:00pm
Friday 18th June 3:00pm until 4:00pm
Saturday 19th June 10:00am until 11:00am
Saturday 19th June 11:00am until 12:00pm
Saturday 19th June 12:00pm until 1:00pm
Saturday 19th June 1:00pm until 2:00pm
Saturday 19th June 2:00pm until 3:00pm
Saturday 19th June 3:00pm until 4:00pm
Sunday 20th June 10:00am until 11:00am
Sunday 20th June 11:00am until 12:00pm
Sunday 20th June 12:00pm until 1:00pm
Sunday 20th June 1:00pm until 2:00pm
Sunday 20th June 2:00pm until 3:00pm
Sunday 20th June 3:00pm until 4:00pm
Monday 21st June 10:00am until 11:00am
Monday 21st June 11:00am until 12:00pm
Monday 21st June 12:00pm until 1:00pm
Monday 21st June 1:00pm until 2:00pm
Monday 21st June 2:00pm until 3:00pm
Monday 21st June 3:00pm until 4:00pm
Tuesday 22nd June 10:00am until 11:00am
Tuesday 22nd June 11:00am until 12:00pm
Tuesday 22nd June 12:00pm until 1:00pm
Tuesday 22nd June 1:00pm until 2:00pm
Tuesday 22nd June 2:00pm until 3:00pm
Tuesday 22nd June 3:00pm until 4:00pm
Wednesday 23rd June 10:00am until 11:00am
Wednesday 23rd June 11:00am until 12:00pm
Wednesday 23rd June 12:00pm until 1:00pm
Wednesday 23rd June 1:00pm until 2:00pm
Wednesday 23rd June 2:00pm until 3:00pm
Wednesday 23rd June 3:00pm until 4:00pm
Thursday 24th June 10:00am until 11:00am
Thursday 24th June 11:00am until 12:00pm
Thursday 24th June 12:00pm until 1:00pm
Thursday 24th June 1:00pm until 2:00pm
Thursday 24th June 2:00pm until 3:00pm
Thursday 24th June 3:00pm until 4:00pm
Friday 25th June 10:00am until 11:00am
Friday 25th June 11:00am until 12:00pm
Friday 25th June 12:00pm until 1:00pm
Friday 25th June 1:00pm until 2:00pm
Friday 25th June 2:00pm until 3:00pm
Friday 25th June 3:00pm until 4:00pm
Saturday 26th June 10:00am until 11:00am
Saturday 26th June 11:00am until 12:00pm
Saturday 26th June 12:00pm until 1:00pm
Saturday 26th June 1:00pm until 2:00pm
Saturday 26th June 2:00pm until 3:00pm
Saturday 26th June 3:00pm until 4:00pm
Sunday 27th June 10:00am until 11:00am
Sunday 27th June 11:00am until 12:00pm
Sunday 27th June 12:00pm until 1:00pm
Sunday 27th June 1:00pm until 2:00pm
Sunday 27th June 2:00pm until 3:00pm
Sunday 27th June 3:00pm until 4:00pm
Monday 28th June 10:00am until 11:00am
Monday 28th June 11:00am until 12:00pm
Monday 28th June 12:00pm until 1:00pm
Monday 28th June 1:00pm until 2:00pm
Monday 28th June 2:00pm until 3:00pm
Monday 28th June 3:00pm until 4:00pm
Tuesday 29th June 10:00am until 11:00am
Tuesday 29th June 11:00am until 12:00pm
Tuesday 29th June 12:00pm until 1:00pm
Tuesday 29th June 1:00pm until 2:00pm
Tuesday 29th June 2:00pm until 3:00pm
Tuesday 29th June 3:00pm until 4:00pm
Wednesday 30th June 10:00am until 11:00am
Wednesday 30th June 11:00am until 12:00pm
Wednesday 30th June 12:00pm until 1:00pm
Wednesday 30th June 1:00pm until 2:00pm
Wednesday 30th June 2:00pm until 3:00pm
Wednesday 30th June 3:00pm until 4:00pm
Thursday 1st July 10:00am until 11:00am
Thursday 1st July 11:00am until 12:00pm
Thursday 1st July 12:00pm until 1:00pm
Thursday 1st July 1:00pm until 2:00pm
Thursday 1st July 2:00pm until 3:00pm
Thursday 1st July 3:00pm until 4:00pm
Friday 2nd July 10:00am until 11:00am
Friday 2nd July 11:00am until 12:00pm
Friday 2nd July 12:00pm until 1:00pm
Friday 2nd July 1:00pm until 2:00pm
Friday 2nd July 2:00pm until 3:00pm
Friday 2nd July 3:00pm until 4:00pm
Saturday 3rd July 10:00am until 11:00am
Saturday 3rd July 11:00am until 12:00pm
Saturday 3rd July 12:00pm until 1:00pm
Saturday 3rd July 1:00pm until 2:00pm
Saturday 3rd July 2:00pm until 3:00pm
Saturday 3rd July 3:00pm until 4:00pm
Sunday 4th July 10:00am until 11:00am
Sunday 4th July 11:00am until 12:00pm
Sunday 4th July 12:00pm until 1:00pm
Sunday 4th July 1:00pm until 2:00pm
Sunday 4th July 2:00pm until 3:00pm
Sunday 4th July 3:00pm until 4:00pm
Monday 5th July 10:00am until 11:00am
Monday 5th July 11:00am until 12:00pm
Monday 5th July 12:00pm until 1:00pm
Monday 5th July 1:00pm until 2:00pm
Monday 5th July 2:00pm until 3:00pm
Monday 5th July 3:00pm until 4:00pm
Tuesday 6th July 10:00am until 11:00am
Tuesday 6th July 11:00am until 12:00pm
Tuesday 6th July 12:00pm until 1:00pm
Tuesday 6th July 1:00pm until 2:00pm
Tuesday 6th July 2:00pm until 3:00pm
Tuesday 6th July 3:00pm until 4:00pm
Wednesday 7th July 10:00am until 11:00am
Wednesday 7th July 11:00am until 12:00pm
Wednesday 7th July 12:00pm until 1:00pm
Wednesday 7th July 1:00pm until 2:00pm
Wednesday 7th July 2:00pm until 3:00pm
Wednesday 7th July 3:00pm until 4:00pm
Thursday 8th July 10:00am until 11:00am
Thursday 8th July 11:00am until 12:00pm
Thursday 8th July 12:00pm until 1:00pm
Thursday 8th July 1:00pm until 2:00pm
Thursday 8th July 2:00pm until 3:00pm
Thursday 8th July 3:00pm until 4:00pm
Friday 9th July 10:00am until 11:00am
Friday 9th July 11:00am until 12:00pm
Friday 9th July 12:00pm until 1:00pm
Friday 9th July 1:00pm until 2:00pm
Friday 9th July 2:00pm until 3:00pm
Friday 9th July 3:00pm until 4:00pm
Saturday 10th July 10:00am until 11:00am
Saturday 10th July 11:00am until 12:00pm
Saturday 10th July 12:00pm until 1:00pm
Saturday 10th July 1:00pm until 2:00pm
Saturday 10th July 2:00pm until 3:00pm
Saturday 10th July 3:00pm until 4:00pm
Sunday 11th July 10:00am until 11:00am
Sunday 11th July 11:00am until 12:00pm
Sunday 11th July 12:00pm until 1:00pm
Sunday 11th July 1:00pm until 2:00pm
Sunday 11th July 2:00pm until 3:00pm
Sunday 11th July 3:00pm until 4:00pm
Monday 12th July 10:00am until 11:00am
Monday 12th July 11:00am until 12:00pm
Monday 12th July 12:00pm until 1:00pm
Monday 12th July 1:00pm until 2:00pm
Monday 12th July 2:00pm until 3:00pm
Monday 12th July 3:00pm until 4:00pm
Tuesday 13th July 10:00am until 11:00am
Tuesday 13th July 11:00am until 12:00pm
Tuesday 13th July 12:00pm until 1:00pm
Tuesday 13th July 1:00pm until 2:00pm
Tuesday 13th July 2:00pm until 3:00pm
Tuesday 13th July 3:00pm until 4:00pm
Wednesday 14th July 10:00am until 11:00am
Wednesday 14th July 11:00am until 12:00pm
Wednesday 14th July 12:00pm until 1:00pm
Wednesday 14th July 1:00pm until 2:00pm
Wednesday 14th July 2:00pm until 3:00pm
Wednesday 14th July 3:00pm until 4:00pm
Thursday 15th July 10:00am until 11:00am
Thursday 15th July 11:00am until 12:00pm
Thursday 15th July 12:00pm until 1:00pm
Thursday 15th July 1:00pm until 2:00pm
Thursday 15th July 2:00pm until 3:00pm
Thursday 15th July 3:00pm until 4:00pm
Friday 16th July 10:00am until 11:00am
Friday 16th July 11:00am until 12:00pm
Friday 16th July 12:00pm until 1:00pm
Friday 16th July 1:00pm until 2:00pm
Friday 16th July 2:00pm until 3:00pm
Friday 16th July 3:00pm until 4:00pm
Saturday 17th July 10:00am until 11:00am
Saturday 17th July 11:00am until 12:00pm
Saturday 17th July 12:00pm until 1:00pm
Saturday 17th July 1:00pm until 2:00pm
Saturday 17th July 2:00pm until 3:00pm
Saturday 17th July 3:00pm until 4:00pm
Sunday 18th July 10:00am until 11:00am
Sunday 18th July 11:00am until 12:00pm
Sunday 18th July 12:00pm until 1:00pm
Sunday 18th July 1:00pm until 2:00pm
Sunday 18th July 2:00pm until 3:00pm
Sunday 18th July 3:00pm until 4:00pm
Monday 19th July 10:00am until 11:00am
Monday 19th July 11:00am until 12:00pm
Monday 19th July 12:00pm until 1:00pm
Monday 19th July 1:00pm until 2:00pm
Monday 19th July 2:00pm until 3:00pm
Monday 19th July 3:00pm until 4:00pm
Tuesday 20th July 10:00am until 11:00am
Tuesday 20th July 11:00am until 12:00pm
Tuesday 20th July 12:00pm until 1:00pm
Tuesday 20th July 1:00pm until 2:00pm
Tuesday 20th July 2:00pm until 3:00pm
Tuesday 20th July 3:00pm until 4:00pm
Wednesday 21st July 10:00am until 11:00am
Wednesday 21st July 11:00am until 12:00pm
Wednesday 21st July 12:00pm until 1:00pm
Wednesday 21st July 1:00pm until 2:00pm
Wednesday 21st July 2:00pm until 3:00pm
Wednesday 21st July 3:00pm until 4:00pm
Thursday 22nd July 10:00am until 11:00am
Thursday 22nd July 11:00am until 12:00pm
Thursday 22nd July 12:00pm until 1:00pm
Thursday 22nd July 1:00pm until 2:00pm
Thursday 22nd July 2:00pm until 3:00pm
Thursday 22nd July 3:00pm until 4:00pm
Friday 23rd July 10:00am until 11:00am
Friday 23rd July 11:00am until 12:00pm
Friday 23rd July 12:00pm until 1:00pm
Friday 23rd July 1:00pm until 2:00pm
Friday 23rd July 2:00pm until 3:00pm
Friday 23rd July 3:00pm until 4:00pm
Saturday 24th July 10:00am until 11:00am
Saturday 24th July 11:00am until 12:00pm
Saturday 24th July 12:00pm until 1:00pm
Saturday 24th July 1:00pm until 2:00pm
Saturday 24th July 2:00pm until 3:00pm
Saturday 24th July 3:00pm until 4:00pm
Sunday 25th July 10:00am until 11:00am
Sunday 25th July 11:00am until 12:00pm
Sunday 25th July 12:00pm until 1:00pm
Sunday 25th July 1:00pm until 2:00pm
Sunday 25th July 2:00pm until 3:00pm
Sunday 25th July 3:00pm until 4:00pm
Monday 26th July 10:00am until 11:00am
Monday 26th July 11:00am until 12:00pm
Monday 26th July 12:00pm until 1:00pm
Monday 26th July 1:00pm until 2:00pm
Monday 26th July 2:00pm until 3:00pm
Monday 26th July 3:00pm until 4:00pm
Tuesday 27th July 10:00am until 11:00am
Tuesday 27th July 11:00am until 12:00pm
Tuesday 27th July 12:00pm until 1:00pm
Tuesday 27th July 1:00pm until 2:00pm
Tuesday 27th July 2:00pm until 3:00pm
Tuesday 27th July 3:00pm until 4:00pm
Wednesday 28th July 10:00am until 11:00am
Wednesday 28th July 11:00am until 12:00pm
Wednesday 28th July 12:00pm until 1:00pm
Wednesday 28th July 1:00pm until 2:00pm
Wednesday 28th July 2:00pm until 3:00pm
Wednesday 28th July 3:00pm until 4:00pm
Thursday 29th July 10:00am until 11:00am
Thursday 29th July 11:00am until 12:00pm
Thursday 29th July 12:00pm until 1:00pm
Thursday 29th July 1:00pm until 2:00pm
Thursday 29th July 2:00pm until 3:00pm
Thursday 29th July 3:00pm until 4:00pm
Friday 30th July 10:00am until 11:00am
Friday 30th July 11:00am until 12:00pm
Friday 30th July 12:00pm until 1:00pm
Friday 30th July 1:00pm until 2:00pm
Friday 30th July 2:00pm until 3:00pm
Friday 30th July 3:00pm until 4:00pm
Saturday 31st July 10:00am until 11:00am
Saturday 31st July 11:00am until 12:00pm
Saturday 31st July 12:00pm until 1:00pm
Saturday 31st July 1:00pm until 2:00pm
Saturday 31st July 2:00pm until 3:00pm
Saturday 31st July 3:00pm until 4:00pm
Sunday 1st August 10:00am until 11:00am
Sunday 1st August 11:00am until 12:00pm
Sunday 1st August 12:00pm until 1:00pm
Sunday 1st August 1:00pm until 2:00pm
Sunday 1st August 2:00pm until 3:00pm
Sunday 1st August 3:00pm until 4:00pm
Monday 2nd August 10:00am until 11:00am
Monday 2nd August 11:00am until 12:00pm
Monday 2nd August 12:00pm until 1:00pm
Monday 2nd August 1:00pm until 2:00pm
Monday 2nd August 2:00pm until 3:00pm
Monday 2nd August 3:00pm until 4:00pm
Tuesday 3rd August 10:00am until 11:00am
Tuesday 3rd August 11:00am until 12:00pm
Tuesday 3rd August 12:00pm until 1:00pm
Tuesday 3rd August 1:00pm until 2:00pm
Tuesday 3rd August 2:00pm until 3:00pm
Tuesday 3rd August 3:00pm until 4:00pm
Wednesday 4th August 10:00am until 11:00am
Wednesday 4th August 11:00am until 12:00pm
Wednesday 4th August 12:00pm until 1:00pm
Wednesday 4th August 1:00pm until 2:00pm
Wednesday 4th August 2:00pm until 3:00pm
Wednesday 4th August 3:00pm until 4:00pm
Thursday 5th August 10:00am until 11:00am
Thursday 5th August 11:00am until 12:00pm
Thursday 5th August 12:00pm until 1:00pm
Thursday 5th August 1:00pm until 2:00pm
Thursday 5th August 2:00pm until 3:00pm
Thursday 5th August 3:00pm until 4:00pm
Friday 6th August 10:00am until 11:00am
Friday 6th August 11:00am until 12:00pm
Friday 6th August 12:00pm until 1:00pm
Friday 6th August 1:00pm until 2:00pm
Friday 6th August 2:00pm until 3:00pm
Friday 6th August 3:00pm until 4:00pm
Saturday 7th August 10:00am until 11:00am
Saturday 7th August 11:00am until 12:00pm
Saturday 7th August 12:00pm until 1:00pm
Saturday 7th August 1:00pm until 2:00pm
Saturday 7th August 2:00pm until 3:00pm
Saturday 7th August 3:00pm until 4:00pm
Sunday 8th August 10:00am until 11:00am
Sunday 8th August 11:00am until 12:00pm
Sunday 8th August 12:00pm until 1:00pm
Sunday 8th August 1:00pm until 2:00pm
Sunday 8th August 2:00pm until 3:00pm
Sunday 8th August 3:00pm until 4:00pm
Monday 9th August 10:00am until 11:00am
Monday 9th August 11:00am until 12:00pm
Monday 9th August 12:00pm until 1:00pm
Monday 9th August 1:00pm until 2:00pm
Monday 9th August 2:00pm until 3:00pm
Monday 9th August 3:00pm until 4:00pm
Tuesday 10th August 10:00am until 11:00am
Tuesday 10th August 11:00am until 12:00pm
Tuesday 10th August 12:00pm until 1:00pm
Tuesday 10th August 1:00pm until 2:00pm
Tuesday 10th August 2:00pm until 3:00pm
Tuesday 10th August 3:00pm until 4:00pm
Wednesday 11th August 10:00am until 11:00am
Wednesday 11th August 11:00am until 12:00pm
Wednesday 11th August 12:00pm until 1:00pm
Wednesday 11th August 1:00pm until 2:00pm
Wednesday 11th August 2:00pm until 3:00pm
Wednesday 11th August 3:00pm until 4:00pm
Thursday 12th August 10:00am until 11:00am
Thursday 12th August 11:00am until 12:00pm
Thursday 12th August 12:00pm until 1:00pm
Thursday 12th August 1:00pm until 2:00pm
Thursday 12th August 2:00pm until 3:00pm
Thursday 12th August 3:00pm until 4:00pm
Friday 13th August 10:00am until 11:00am
Friday 13th August 11:00am until 12:00pm
Friday 13th August 12:00pm until 1:00pm
Friday 13th August 1:00pm until 2:00pm
Friday 13th August 2:00pm until 3:00pm
Friday 13th August 3:00pm until 4:00pm
Saturday 14th August 10:00am until 11:00am
Saturday 14th August 11:00am until 12:00pm
Saturday 14th August 12:00pm until 1:00pm
Saturday 14th August 1:00pm until 2:00pm
Saturday 14th August 2:00pm until 3:00pm
Saturday 14th August 3:00pm until 4:00pm
Sunday 15th August 10:00am until 11:00am
Sunday 15th August 11:00am until 12:00pm
Sunday 15th August 12:00pm until 1:00pm
Sunday 15th August 1:00pm until 2:00pm
Sunday 15th August 2:00pm until 3:00pm
Sunday 15th August 3:00pm until 4:00pm
Monday 16th August 10:00am until 11:00am
Monday 16th August 11:00am until 12:00pm
Monday 16th August 12:00pm until 1:00pm
Monday 16th August 1:00pm until 2:00pm
Monday 16th August 2:00pm until 3:00pm
Monday 16th August 3:00pm until 4:00pm
Tuesday 17th August 10:00am until 11:00am
Tuesday 17th August 11:00am until 12:00pm
Tuesday 17th August 12:00pm until 1:00pm
Tuesday 17th August 1:00pm until 2:00pm
Tuesday 17th August 2:00pm until 3:00pm
Tuesday 17th August 3:00pm until 4:00pm
Wednesday 18th August 10:00am until 11:00am
Wednesday 18th August 11:00am until 12:00pm
Wednesday 18th August 12:00pm until 1:00pm
Wednesday 18th August 1:00pm until 2:00pm
Wednesday 18th August 2:00pm until 3:00pm
Wednesday 18th August 3:00pm until 4:00pm
Thursday 19th August 10:00am until 11:00am
Thursday 19th August 11:00am until 12:00pm
Thursday 19th August 12:00pm until 1:00pm
Thursday 19th August 1:00pm until 2:00pm
Thursday 19th August 2:00pm until 3:00pm
Thursday 19th August 3:00pm until 4:00pm
Friday 20th August 10:00am until 11:00am
Friday 20th August 11:00am until 12:00pm
Friday 20th August 12:00pm until 1:00pm
Friday 20th August 1:00pm until 2:00pm
Friday 20th August 2:00pm until 3:00pm
Friday 20th August 3:00pm until 4:00pm
Saturday 21st August 10:00am until 11:00am
Saturday 21st August 11:00am until 12:00pm
Saturday 21st August 12:00pm until 1:00pm
Saturday 21st August 1:00pm until 2:00pm
Saturday 21st August 2:00pm until 3:00pm
Saturday 21st August 3:00pm until 4:00pm
Sunday 22nd August 10:00am until 11:00am
Sunday 22nd August 11:00am until 12:00pm
Sunday 22nd August 12:00pm until 1:00pm
Sunday 22nd August 1:00pm until 2:00pm
Sunday 22nd August 2:00pm until 3:00pm
Sunday 22nd August 3:00pm until 4:00pm
Monday 23rd August 10:00am until 11:00am
Monday 23rd August 11:00am until 12:00pm
Monday 23rd August 12:00pm until 1:00pm
Monday 23rd August 1:00pm until 2:00pm
Monday 23rd August 2:00pm until 3:00pm
Monday 23rd August 3:00pm until 4:00pm
Tuesday 24th August 10:00am until 11:00am
Tuesday 24th August 11:00am until 12:00pm
Tuesday 24th August 12:00pm until 1:00pm
Tuesday 24th August 1:00pm until 2:00pm
Tuesday 24th August 2:00pm until 3:00pm
Tuesday 24th August 3:00pm until 4:00pm
Wednesday 25th August 10:00am until 11:00am
Wednesday 25th August 11:00am until 12:00pm
Wednesday 25th August 12:00pm until 1:00pm
Wednesday 25th August 1:00pm until 2:00pm
Wednesday 25th August 2:00pm until 3:00pm
Wednesday 25th August 3:00pm until 4:00pm
Thursday 26th August 10:00am until 11:00am
Thursday 26th August 11:00am until 12:00pm
Thursday 26th August 12:00pm until 1:00pm
Thursday 26th August 1:00pm until 2:00pm
Thursday 26th August 2:00pm until 3:00pm
Thursday 26th August 3:00pm until 4:00pm
Friday 27th August 10:00am until 11:00am
Friday 27th August 11:00am until 12:00pm
Friday 27th August 12:00pm until 1:00pm
Friday 27th August 1:00pm until 2:00pm
Friday 27th August 2:00pm until 3:00pm
Friday 27th August 3:00pm until 4:00pm
Saturday 28th August 10:00am until 11:00am
Saturday 28th August 11:00am until 12:00pm
Saturday 28th August 12:00pm until 1:00pm
Saturday 28th August 1:00pm until 2:00pm
Saturday 28th August 2:00pm until 3:00pm
Saturday 28th August 3:00pm until 4:00pm
Sunday 29th August 10:00am until 11:00am
Sunday 29th August 11:00am until 12:00pm
Sunday 29th August 12:00pm until 1:00pm
Sunday 29th August 1:00pm until 2:00pm
Sunday 29th August 2:00pm until 3:00pm
Sunday 29th August 3:00pm until 4:00pm
Monday 30th August 10:00am until 11:00am
Monday 30th August 11:00am until 12:00pm
Monday 30th August 12:00pm until 1:00pm
Monday 30th August 1:00pm until 2:00pm
Monday 30th August 2:00pm until 3:00pm
Monday 30th August 3:00pm until 4:00pm
Tuesday 31st August 10:00am until 11:00am
Tuesday 31st August 11:00am until 12:00pm
Tuesday 31st August 12:00pm until 1:00pm
Tuesday 31st August 1:00pm until 2:00pm
Tuesday 31st August 2:00pm until 3:00pm
Tuesday 31st August 3:00pm until 4:00pm
Wednesday 1st September 10:00am until 11:00am
Wednesday 1st September 11:00am until 12:00pm
Wednesday 1st September 12:00pm until 1:00pm
Wednesday 1st September 1:00pm until 2:00pm
Wednesday 1st September 2:00pm until 3:00pm
Wednesday 1st September 3:00pm until 4:00pm
Thursday 2nd September 10:00am until 11:00am
Thursday 2nd September 11:00am until 12:00pm
Thursday 2nd September 12:00pm until 1:00pm
Thursday 2nd September 1:00pm until 2:00pm
Thursday 2nd September 2:00pm until 3:00pm
Thursday 2nd September 3:00pm until 4:00pm
Friday 3rd September 10:00am until 11:00am
Friday 3rd September 11:00am until 12:00pm
Friday 3rd September 12:00pm until 1:00pm
Friday 3rd September 1:00pm until 2:00pm
Friday 3rd September 2:00pm until 3:00pm
Friday 3rd September 3:00pm until 4:00pm
Saturday 4th September 10:00am until 11:00am
Saturday 4th September 11:00am until 12:00pm
Saturday 4th September 12:00pm until 1:00pm
Saturday 4th September 1:00pm until 2:00pm
Saturday 4th September 2:00pm until 3:00pm
Saturday 4th September 3:00pm until 4:00pm
Sunday 5th September 10:00am until 11:00am
Sunday 5th September 11:00am until 12:00pm
Sunday 5th September 12:00pm until 1:00pm
Sunday 5th September 1:00pm until 2:00pm
Sunday 5th September 2:00pm until 3:00pm
Sunday 5th September 3:00pm until 4:00pm
Monday 6th September 10:00am until 11:00am
Monday 6th September 11:00am until 12:00pm
Monday 6th September 12:00pm until 1:00pm
Monday 6th September 1:00pm until 2:00pm
Monday 6th September 2:00pm until 3:00pm
Monday 6th September 3:00pm until 4:00pm
Tuesday 7th September 10:00am until 11:00am
Tuesday 7th September 11:00am until 12:00pm
Tuesday 7th September 12:00pm until 1:00pm
Tuesday 7th September 1:00pm until 2:00pm
Tuesday 7th September 2:00pm until 3:00pm
Tuesday 7th September 3:00pm until 4:00pm
Wednesday 8th September 10:00am until 11:00am
Wednesday 8th September 11:00am until 12:00pm
Wednesday 8th September 12:00pm until 1:00pm
Wednesday 8th September 1:00pm until 2:00pm
Wednesday 8th September 2:00pm until 3:00pm
Wednesday 8th September 3:00pm until 4:00pm
Thursday 9th September 10:00am until 11:00am
Thursday 9th September 11:00am until 12:00pm
Thursday 9th September 12:00pm until 1:00pm
Thursday 9th September 1:00pm until 2:00pm
Thursday 9th September 2:00pm until 3:00pm
Thursday 9th September 3:00pm until 4:00pm
Friday 10th September 10:00am until 11:00am
Friday 10th September 11:00am until 12:00pm
Friday 10th September 12:00pm until 1:00pm
Friday 10th September 1:00pm until 2:00pm
Friday 10th September 2:00pm until 3:00pm
Friday 10th September 3:00pm until 4:00pm
Saturday 11th September 10:00am until 11:00am
Saturday 11th September 11:00am until 12:00pm
Saturday 11th September 12:00pm until 1:00pm
Saturday 11th September 1:00pm until 2:00pm
Saturday 11th September 2:00pm until 3:00pm
Saturday 11th September 3:00pm until 4:00pm
Sunday 12th September 10:00am until 11:00am
Sunday 12th September 11:00am until 12:00pm
Sunday 12th September 12:00pm until 1:00pm
Sunday 12th September 1:00pm until 2:00pm
Sunday 12th September 2:00pm until 3:00pm
Sunday 12th September 3:00pm until 4:00pm