La Hougue Bie Tour
La Route de la Hougue Bie
Grouville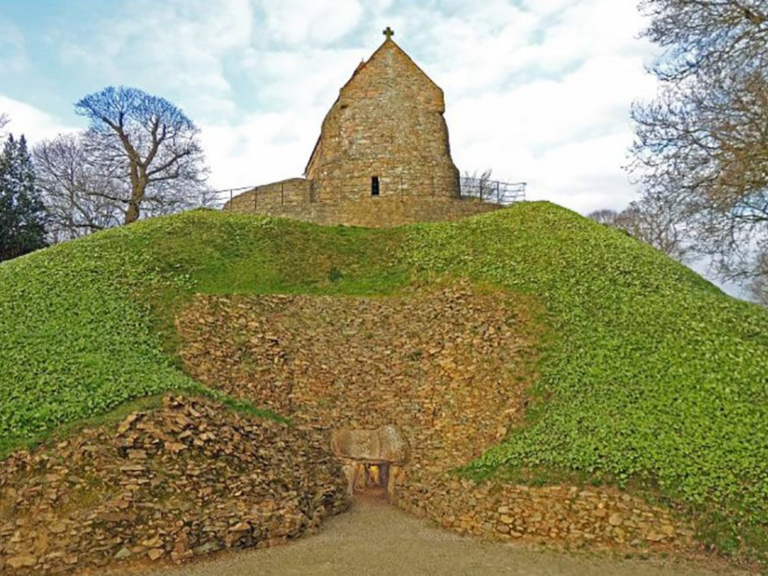 Take a free tour of La Hougue Bie with one of our fantastic tour guides and learn about the history of La Hougue Bie.
---
All tours are free, but normal admission prices apply. Tours may take longer than one hour. Tours may be cancelled at short-notice so please call ahead if you are coming to attend a tour.
Tel: + 44 (0) 1534 853823.
---
Future dates
Saturday 8th May 10:45am until 11:45am
Monday 10th May 10:45am until 11:45am
Tuesday 11th May 10:45am until 11:45am
Wednesday 12th May 10:45am until 11:45am
Thursday 13th May 10:45am until 11:45am
Friday 14th May 10:45am until 11:45am
Saturday 15th May 10:45am until 11:45am
Monday 17th May 10:45am until 11:45am
Tuesday 18th May 10:45am until 11:45am
Wednesday 19th May 10:45am until 11:45am
Thursday 20th May 10:45am until 11:45am
Friday 21st May 10:45am until 11:45am
Saturday 22nd May 10:45am until 11:45am
Monday 24th May 10:45am until 11:45am
Tuesday 25th May 10:45am until 11:45am
Wednesday 26th May 10:45am until 11:45am
Thursday 27th May 10:45am until 11:45am
Friday 28th May 10:45am until 11:45am
Saturday 29th May 10:45am until 11:45am
Monday 31st May 10:45am until 11:45am
Tuesday 1st June 10:45am until 11:45am
Wednesday 2nd June 10:45am until 11:45am
Thursday 3rd June 10:45am until 11:45am
Friday 4th June 10:45am until 11:45am
Saturday 5th June 10:45am until 11:45am
Monday 7th June 10:45am until 11:45am
Tuesday 8th June 10:45am until 11:45am
Wednesday 9th June 10:45am until 11:45am
Thursday 10th June 10:45am until 11:45am
Friday 11th June 10:45am until 11:45am
Saturday 12th June 10:45am until 11:45am
Monday 14th June 10:45am until 11:45am
Tuesday 15th June 10:45am until 11:45am
Wednesday 16th June 10:45am until 11:45am
Thursday 17th June 10:45am until 11:45am
Friday 18th June 10:45am until 11:45am
Saturday 19th June 10:45am until 11:45am
Monday 21st June 10:45am until 11:45am
Tuesday 22nd June 10:45am until 11:45am
Wednesday 23rd June 10:45am until 11:45am
Thursday 24th June 10:45am until 11:45am
Friday 25th June 10:45am until 11:45am
Saturday 26th June 10:45am until 11:45am
Monday 28th June 10:45am until 11:45am
Tuesday 29th June 10:45am until 11:45am
Wednesday 30th June 10:45am until 11:45am
Thursday 1st July 10:45am until 11:45am
Friday 2nd July 10:45am until 11:45am
Saturday 3rd July 10:45am until 11:45am
Monday 5th July 10:45am until 11:45am
Tuesday 6th July 10:45am until 11:45am
Wednesday 7th July 10:45am until 11:45am
Thursday 8th July 10:45am until 11:45am
Friday 9th July 10:45am until 11:45am
Saturday 10th July 10:45am until 11:45am
Monday 12th July 10:45am until 11:45am
Tuesday 13th July 10:45am until 11:45am
Wednesday 14th July 10:45am until 11:45am
Thursday 15th July 10:45am until 11:45am
Friday 16th July 10:45am until 11:45am
Saturday 17th July 10:45am until 11:45am
Monday 19th July 10:45am until 11:45am
Tuesday 20th July 10:45am until 11:45am
Wednesday 21st July 10:45am until 11:45am
Thursday 22nd July 10:45am until 11:45am
Friday 23rd July 10:45am until 11:45am
Saturday 24th July 10:45am until 11:45am
Monday 26th July 10:45am until 11:45am
Tuesday 27th July 10:45am until 11:45am
Wednesday 28th July 10:45am until 11:45am
Thursday 29th July 10:45am until 11:45am
Friday 30th July 10:45am until 11:45am
Saturday 31st July 10:45am until 11:45am
Monday 2nd August 10:45am until 11:45am
Tuesday 3rd August 10:45am until 11:45am
Wednesday 4th August 10:45am until 11:45am
Thursday 5th August 10:45am until 11:45am
Friday 6th August 10:45am until 11:45am
Saturday 7th August 10:45am until 11:45am
Monday 9th August 10:45am until 11:45am
Tuesday 10th August 10:45am until 11:45am
Wednesday 11th August 10:45am until 11:45am
Thursday 12th August 10:45am until 11:45am
Friday 13th August 10:45am until 11:45am
Saturday 14th August 10:45am until 11:45am
Monday 16th August 10:45am until 11:45am
Tuesday 17th August 10:45am until 11:45am
Wednesday 18th August 10:45am until 11:45am
Thursday 19th August 10:45am until 11:45am
Friday 20th August 10:45am until 11:45am
Saturday 21st August 10:45am until 11:45am
Monday 23rd August 10:45am until 11:45am
Tuesday 24th August 10:45am until 11:45am
Wednesday 25th August 10:45am until 11:45am
Thursday 26th August 10:45am until 11:45am
Friday 27th August 10:45am until 11:45am
Saturday 28th August 10:45am until 11:45am
Monday 30th August 10:45am until 11:45am
Tuesday 31st August 10:45am until 11:45am
Wednesday 1st September 10:45am until 11:45am
Thursday 2nd September 10:45am until 11:45am
Friday 3rd September 10:45am until 11:45am
Saturday 4th September 10:45am until 11:45am
Monday 6th September 10:45am until 11:45am
Tuesday 7th September 10:45am until 11:45am
Wednesday 8th September 10:45am until 11:45am
Thursday 9th September 10:45am until 11:45am
Friday 10th September 10:45am until 11:45am
Saturday 11th September 10:45am until 11:45am
Monday 13th September 10:45am until 11:45am
Tuesday 14th September 10:45am until 11:45am
Wednesday 15th September 10:45am until 11:45am
Thursday 16th September 10:45am until 11:45am
Friday 17th September 10:45am until 11:45am
Saturday 18th September 10:45am until 11:45am
Monday 20th September 10:45am until 11:45am
Tuesday 21st September 10:45am until 11:45am
Wednesday 22nd September 10:45am until 11:45am
Thursday 23rd September 10:45am until 11:45am
Friday 24th September 10:45am until 11:45am
Saturday 25th September 10:45am until 11:45am
Monday 27th September 10:45am until 11:45am
Tuesday 28th September 10:45am until 11:45am
Wednesday 29th September 10:45am until 11:45am
Thursday 30th September 10:45am until 11:45am
Friday 1st October 10:45am until 11:45am
Saturday 2nd October 10:45am until 11:45am
Monday 4th October 10:45am until 11:45am
Tuesday 5th October 10:45am until 11:45am
Wednesday 6th October 10:45am until 11:45am
Thursday 7th October 10:45am until 11:45am
Friday 8th October 10:45am until 11:45am
Saturday 9th October 10:45am until 11:45am
Monday 11th October 10:45am until 11:45am
Tuesday 12th October 10:45am until 11:45am