The 4th annual Brentford Challenge
8th April 2015
... Comments
---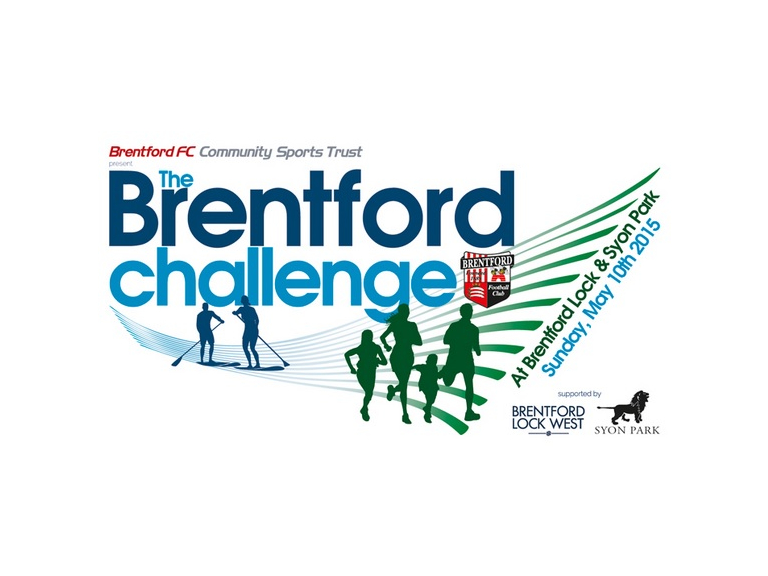 What is the Brentford Challenge?
The Brentford Challenge comprises a paddle board time trial (11yrs to adult), a 1k fun run (5yrs to adult) and a 5k trail run (11yrs to adult). Prices to participate in the events start from £6 per person.
 
The 2015 Challenge sees the paddle boarding time-trial take place at Brentford Lock whilst the 1km and 5km runs take place in the grounds of Syon Park.
 
To complement the day's activities we will also be hosting our youth football tournament* and the FREE to enter family sports activity day.


 
What is stand up paddle boarding?
Stand up paddle boarding (SUP) is one of the fastest growing adventure sports. The basics are not difficult to learn and with coaching, people can stand up and paddle relatively quickly. SUP is a sport that can be enjoyed by individuals, groups and families. Larger boards can enable parents to take a small child on board safely whilst older children can paddle their own board.
 
There are no upper age constraints - active grandparents can take part too!
 
Do not worry if you have never tried paddleboarding as a training session is provided as part of your Brentford Challenge entry fee.

 

What about the 1km and 5km runs?
The 1k run is aimed primarily at youngsters and families whilst the 5km is for the more experienced or competitive runner.
 
Both the runs take place in the stunning grounds of Syon Park. A large section of the 5km route makes its way through the Duke of Northumberland's private gardens, which are normally closed to the public.
 
The routes are a mixture of trail, path, meadow and parkland. A suitable pair of running/trail shoes should be worn, as there are some stretches that pass over rough ground and open meadow – it's a proper trail run!
 
Race categories and awards:
Upon registration, participants in the 5km run will receive a race-timing chip and their race time will be recorded. Trophies will be awarded to winners and runners up in each of the 5km age categories.
 
Upon completion, participants in the paddle boarding, 1km and 5km races will receive a Brentford Challenge participation medal and goody bag.
The awards ceremony forms the event finale and takes place on the main stage at the end of the day.

Paddle board training (PBT):
Paddle board training sessions are mandatory and take place at Brentford Lock the week prior to event day. Please note there are 16 places available per-session.

PBT 1 - Tuesday 5th May: 16.30pm to 18.00pm
PBT 2 - Tuesday 5th May: 18.00pm to 19.30pm
PBT 3 - Wednesday 6th May: 16.30pm to 18.00pm
PBT 4 - Wednesday 6th May: 18.00pm to 19.30pm
PBT 5 - Thursday 7th May: 16.30pm to 18.00pm
PBT 6 - Thursday 7th May: 18.00pm to 19.30pm
You can choose your preferred training date and time when booking your tickets.

To select your training session:
1. Please click the additional items button at the bottom of the booking form.
2. Select the training session and the number of places required (1 place per-participant).
3. Your selection will be automatically added to your booking receipt.
Entry fees: Paddle boarding
Includes training session, paddle board race entry, secure bag storage and entry to the sports activity day.
Juniors (11 to 17yrs) - £15.00
Adults (18+) - £25.00
 
Entry fees: Paddle boarding & 5km Trail Run
Includes paddle board training session, paddle board race & 5km race entry, secure bag storage and entry to the sports activity day.
Juniors (11 to 17yrs) - £20.00
Adults (18+) - £30.00
 
Entry fees: 1km fun run
Includes 1km race entry, secure bag storage and entry to sports activity day
Juniors and adults (ages 5 to adult) - £6.00 per runner
 
Entry fees: 5km trail run
Includes 5km race entry, secure bag storage and entry to sports activity day
Juniors and adults (ages 11 to adult) - £11.00 per runner
 
Entry fees - Sports activity day (all ages)
FREE (secure bag storage not included)
 
Event Itinerary - Paddle Boarding
09.00am to 10.00am – Arrive and registration
10.00am to 12.00pm – Racing
 
Event Itinerary- 1km fun run
11.30am to 12.30pm – Arrive and registration
13.30pm to 14.30pm – Racing
 
Event Itinerary- 5km trail run
13.30pm to 14.30pm – Arrive and registration
15.00pm to 16.00pm – Racing

Sports Activity Day - FREE
13.00 – 16.30pm
Trophy Presentation
16.15pm to 16.45pm
 
Event Close: 17.00pm
 
Registration and online booking:
All registrations should be made online. We cannot accept cash or on-the-day bookings.
- The closing date for paddle board only bookings is 11.00pm on Monday, May 4th 2015
- The closing date for the 1km and 5km bookings is 10.00am on Thursday, May 7th 2015

Children and juniors not participating in the events will need to register to take part in the sports activity fun day – this can be done online or at the registration desk.

Discounts:
A 10% discount is available for all BFC CST E-Newsletter subscribers, BFC Junior Bees, BFC Club Members and Brentford FC CST Advanced Training Programme Members.
 
To access the discount please use the follwoing codes:
Brentford FC and Junior Bees Members should use their membership numbers.
ATP players should use the code atpbc2015
E-Newsletter subscribers should use the code enbc2015
 
To book your places please visit www.brentfordfccst.com or use the button below.
 
Contact:
For all enquiries please email the Brentford Challenge team at:
brentfordchallenge@brentfordfccst.com
 
Alternatively you can call Brentford FC Community Sports Trust on 020 8326 7030