WORLD CLUB BASKETBALL TOURNAMENT 2019
SUMMERFIELDS LEISURE CENTRE ,
BOHEMIA ROAD
HASTINGS
TN34 1ET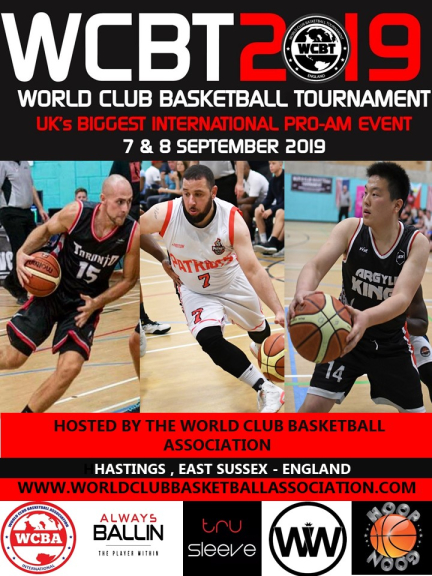 The 5th annual World Club Basketball Tournament , hosted by the World Club Basketball Association & Bexhill Giants returns to Hastings for the 5th consecutive year , and is the UKs No1 International Basketball event for senior men's teams. The tournament will include professional , semi pro and amateur teams from across the world to compete in this high quality , Award Winning event. Teams confirmed to date will be attending from Poland, USA, Lithuania, England, Denmark and Canada. The weekend will include music, competitions and prizes for spectators, as well as a free youth coaching clinic session for under 16's. visit http://www .worldclubbasketballassociation.com/ #WCBT2019
The 'Award Winning' World Club Basketball tournament  is' The UK's No1 International Basketball Event' hosted by Bexhill Giants Basketball Club  of East Sussex , England, the tournament  is open to senior male players from teams across the world,  including professional, semi pro or high standard amateurs.
WCBT was founded in 2015 and since then has included players who have competed ay the highest level around the world, including the NBA, NCAA, Euro League , and other professional leagues around the world.
WCBT 2019 will be  our 5th consecutive event and will host teams from across the world.
WCBT2018  included  the following teams : Wales National Men's Team,  Las Vegas Unknown, New York Court Kings & Chicago Legends (USA),  Argyle Kings (England), London Patriots (Poland) , Sussex Lions & USAF Lakenheath.
There will also be a free children's coaching clinic, music, competitions, giveaways and entertainment  over the weekend  making WCBT a fun filled activity for all the family  at one of the Europe's best basketball events. 
Background
The objective of tournament is to provide players off all abilities the opportunity to compete against other international teams, showcase their talent in front of coaches in attendance and experience the fantastic architecture and history of London and England.

The tournaments has previously featured teams from countries including Canada, USA England, Europe and the Philippines. In addition the tournament will also be filmed for a documentary and overseas TV plus other social media outlets, the matches will be streamed live via YouTube and British Basketball League, English Basketball League & European coaches will be invited to attend to select players for the 2017/8 season.


Media –Exposure
There will be extensive media coverage of the tournament including live streaming of matches, exclusive tournament videos including player interviews, distribution on our extensive social media networks and our dedicated event website www.worldclubbasketballtournament.com
A number of players who have received exposure at our tournaments have gone on to gain professional contracts overseas after been seen at our event, and by including the UK's number 1 international tournament on their resume.

Tournament Location –
The tournament will be played at the Summerfields Leisure Centre in Hastings East Sussex, Bohemia Road TN34 1AT.

Day One 8th September will be played on two courts for each group, Day 2 9th 2018  will be played on the show court for the playoffs and finals.
                                                          
The tournament is endorsed by the England  governing body Basketball England and is covered by £5 million public liability insurance to cover injuries to Basketball England registered members.

The town of Hastings is in the South of England, East Sussex 37 miles from London Gatwick Airport, 5 and 25 miles from Brighton and approximately 90 minutes by train from London Victoria and London Bridge train stations. Heathrow airport also has very straightforward train links to Hastings via London underground train stations.
There are direct train links from Gatwick Airport to Hastings train station with regular taxi services available virtually 24/7.

Transportation can also be arranged to and from the airport if required by our preferred supplier  Vic's Transport  , who will offer discounted rates to teams competing in the tournament.
Hotels and accommodation is located at various locations across East Sussex and should be organised by the teams however we will be happy to support on request.
Future dates
Sunday 8th September 10:00am until 6:00pm