Technology is opening up Ealing's grassroots sports venues to the benefit of the borough
15th February 2017
... Comments
---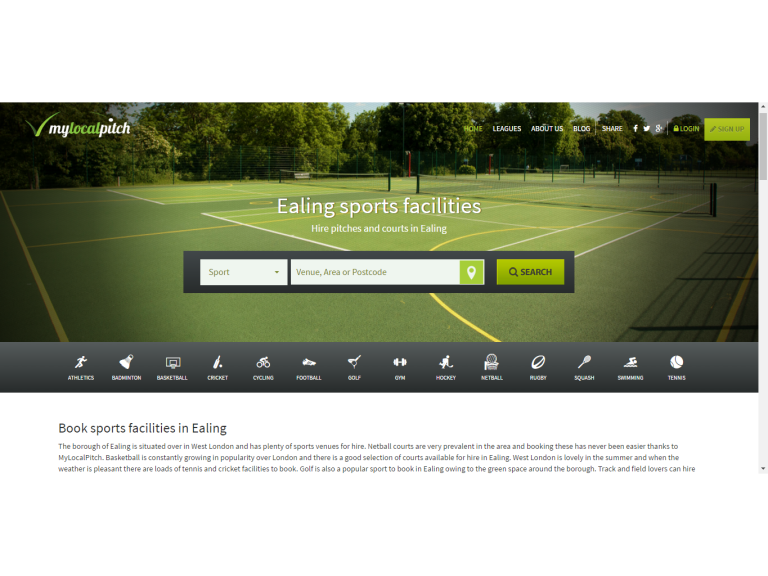 London Sport and Sport England appreciate the part venues play and are striving to get Londoners active through various initiatives. A key focus of their strategy delivered last year was encouraging the adoption of innovative strategies to make physical activity more accessible, with particular emphasis on digital technology.

MyLocalPitch launched in 2014 to make it easier to find and books grassroot sports facilities within London. In most cases, the industry has been slow realise the potential of new technologies which provide their services with more efficiency.


Search and booking portals have changed the travel and takeaway industries forever and as it's become second nature to order a cab, book flights or pick-up takeaways online. Technology has delivered massive growth to these markets and the grassroots sports industry is perfectly positioned to capitalise on these same developments.

Innovative technologies in grassroots sports are already redefining the industry for the benefit of venues and players. The public can utilise a portal to locate their closest venue before placing a booking in seconds. This benefits users who has lived in Ealing for some time or anyone recently moved to the borough for family or work. Facilities are listed on MyLocalPitch based purely on search terms to ensure larger organisations and independent facilities are given equal exposure.

Making it easier to engage in activities allows more people to regularly enjoy sports and venues benefit from larger visitor numbers which in turn drive revenues.


One of the key milestones in the ongoing mission was launching bespoke borough pages for areas like Ealing . On this page locals can explore a portal focused on the area, which lists facilities in the borough to make it even more refined. Facilities know that their services and pitches are being viewed by sports players around Ealing. It's an efficient way to market new facility additions, current availability or tournaments and leagues.

Once an Ealing venue is integrated onto the search and booking portal through an Application Programme Interface they gain the support of a back-end system to manage all online enquiries. This removes admin errors and allows staff more time to deal with other customer service tasks.

Technological advancements opens up activities to the masses and gives venues increased revenues through more visitors. Search and booking portals for grassroots sports helps Ealing locals and facilities remain in fine health.