Aberglasney have some of the most exquisite gardens in Carmarthenshire, set in the gardens of Aberglasney house in Llangathen in the Tywi Valley.  It is a medieval house and gardens owned and run by Aberglasney Restoration Trust.
The house has had many owners over the years and has a wonderful history that can be traced back as far as Henry Tudor after the Battle of Bosworth.  It changed hands many times over the centuries with many owners playing a part in its current magnificence.  However during the Twentieth Century it fell into disrepair by certain owners who were selling off parts of it, until the Welsh Office stepped in and made it a Listed Building, therefore prohibiting any further dismantling.
In 1995 it was transferred to the Aberglasney Restoration Trust and appeals were made for funding to aid renovation.  By 1999 the gardens were open to the public.  It covers a ten hectare site with three walled gardens.  An Elizabethan and Jacobean Cloister Garden with a covered parapet at its centre, which dates possibly back to the thirteenth century and the reign of Edward 1st is one of the main features.  A Ninfarium award winning garden also features and is based on the gardens of Ninfa near Rome and is filled with a wide variety of exotic plants.
The gardens are open most of the year from April to September for the summer flowers and October to March for the winter period, at slightly different times.
It is a lovely place to visit for the day, I recently took my mother to enjoy the gardens and there are tea rooms in the house so you can get a fresh cup of tea and homemade cake while you look out over the gardens.  They also have local craftspeople there displaying their wares and they hold special events during the year for all to attend.  It has also recently become a wedding venue.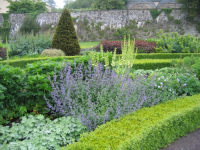 There is a wild flower section which takes you on a walk through the wooded area called Bishop Rudd's walk, to enable you to view all the wild flowers and shrubs that grow there and have been for centuries. This is also home to many rare shrubs and plants.
A new Heritage Lottery funded project has recently been added where you can go to enjoy the numerous workshops on heritage horticulture techniques.  A training and learning facility has been set up with the restoration of the old piggeries and cowsheds into a plant production training facility.
The Yew tunnel is one of my favourite features, I love trees in all shapes and forms, especially ancient trees, I often wonder at the stories they could tell if they could speak, having seen so many people over the years pass under them.  It is believed to have been planted in the Eighteenth century by the Dyer family and its age is obvious by its thick trunks and trained curved branches.
An Asiatic garden can be seen from the house with plants from China, Nepal, Japan and Tibet.  There is also an alpine garden for the alpine plant lovers; with many other small gardens it has something for everyone.
Garden designers have played their part at Aberglasney with a TV series having been made recording its restoration called "A Garden lost in time".  A book has also been written about the many plants growing there by Penny David., which is a must for keen gardeners.