You can now register to take part in Pretty Muddy 2017
19th April 2017
Author: Kevin
Comments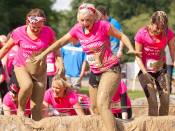 Race for Life Pretty Muddy is back for 2017 on Saturday 9th September. The brilliant 5k or 10k muddy obstacle course. Scramble over the A-frame. Crawl through the mud pit. Have fun with your friends. And raise valuable funds for BEATING CANCER.
The Pretty Muddy Cardiff route for this fun event takes you around the stunning Bute Park and Pontcanna Fields in the heart of the City of Cardiff. A flat course scattered with obstacles creates an exciting, adrenaline-fueled and action packed event with a brilliant atmosphere.
When does it take place?
There are 4 times to chose from: 10:00, 10:15, 10:30, 11:00
How old do you need to be to enter?
Girls (13-15): £10.00
Women (16-17): £19.99
Women (18+): £19.99
Under 13 entry: due to the nature of this event, you must be 13 or over to take part
Where does it take place?
You can find the Venue here: View map
Register today!