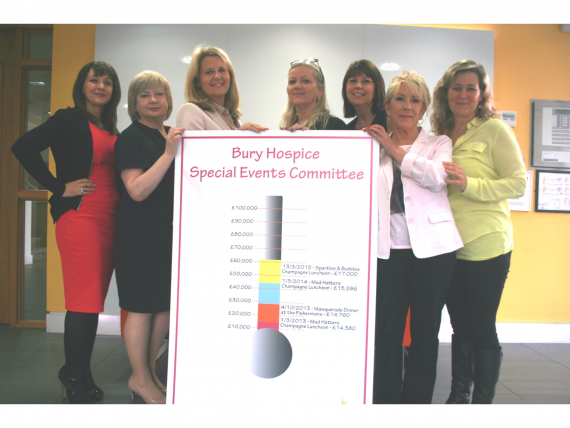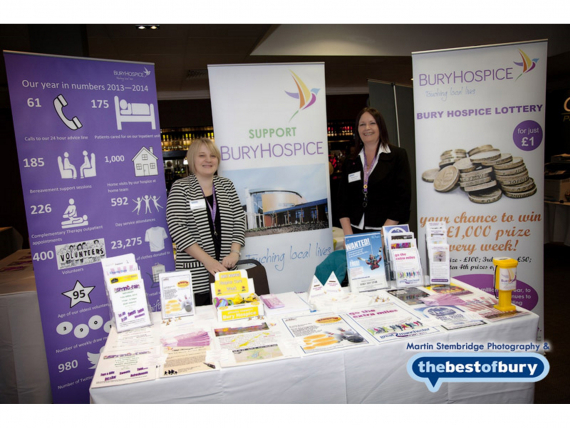 about us
Bury Hospice is an independent registered charity delivering end of life care and providing support to terminally ill patients and their loved ones
Bury Hospice are The Best of Bury's Charity of the Year 2013

Our Care
Bury Hospice serves the people of the metropolitan borough of Bury: Prestwich, Whitefield, Radcliffe, Bury, Tottington and Ramsbottom.
Bury Hospice exists to provide specialised palliative care, helping patients and families facing terminal illness do so with dignity, independence, and free from pain. This care is provided both in the hospice for day patients, out patients and inpatients and is also in patients' own homes through our Hospice@Home service.
Much of the care provided to day and out patients is centred around helping patients come to terms with a terminal diagnosis, helping them to manage their symptoms and providing support, care and advice on spending what time they have left leading fulfilling and active lives. Inpatient and Hospice@Home care tends to be focussed on patients' final days and allows patients to spend precious time with their families around them whilst receiving specialised professional palliative care.
Other services provided include 24-hour professional advice, Consultant Out-Patient clinic, complementary therapies, counselling, medication checks, stress management and relaxation therapy sessions, home assessment visits, visitor support services, carer support, bereavement support and training and education.
"The care my Uncle John received at the Hospice was fantastic. The staff and volunteers do such a great job. It was very comforting for him to be so close to his family and friends, so they could come and visit him in his final days. The Hospice was very different to a hospital ward. He had his own room which was really nice and homely and the staff went out of their way to make him as comfortable as possible, nothing was too much trouble. My family still talks about how well he was cared for: it's often the little things that really count. For example, encouraging patients to get dressed every day and allowing visitors at any time. I don't think he would have received that level of care elsewhere." Gemma Atkinson
If you would like to find out more about Bury Hospice, the services it provides or you would like to know how to get a patient referred as a patient, please visit the Our Care section of the Hospice's website at or call us on 0161 725 9800
---
How You Can Help
All care across the whole range of Bury Hospice services is provided completely free of charge. With only 16% of our annual funding coming from the NHS, the Hospice has gained a track record in securing the funds necessary to deliver all of these services. In order to do so and to maintain the excellent levels of service provided by Bury Hospice, the clinical staff are backed-up by a small dedicated team of fundraisers and volunteers who work with the people and businesses of Bury, through fundraising, hospice lottery and the hospice shops, to ensure that the money is there to keep the Hospice open!
There are many ways in which you can help: -
Taking part in a Hospice fundraising event
Make a donation
Take part in the Hospice's weekly Lottery
Shop at and donate goods to the Bury Hospice Shops
Become a Volunteer and donate your time
Have one of our collecting boxes in your premises
Nominate us as your charity of the year
Become our friend on facebook to find out up to the minute information
 If you would like to find out more about how Bury Hospice is paid for and how you could help Bury Hospice, please visit the How you can help section of the Hospice's website or call the fundraising office on 0161 797 1748.
---

Main Contact Details

Hospice Address
Bury Hospice, Rochdale Old Road, Bury, BL9 7RG
0161 725 9800
Fundraising Office Address
89 The Rock, Bury BL9 0NB
0161 797 1748
Shop Addresses
89 The Rock, Bury BL9 0NB
70 Bridge Street, Ramsbottom BL0 9AG
7 Longfield Suite, Prestwich M25 1AY
24 Blackburn Street, Radcliffe M26 1NQ
Warehouse - Unit 13, Dale Industrial Estate, Radcliffe M26 1AD
Tel - 0161 725 8405
Registered charity number 1136843
Contact us

Bury Hospice,
Rochdale Old Road,
Bury

BL9 7RG

Email us now

Visit our website

find us here

our videos

follow us

This is a live stream from Twitter - not the voice of thebestof!

find us on facebook

accreditations


Winner - Community Impact