World class photographer and Chislehurst resident Duncan Raban - photographs local charity event at 2gether shop
18th June 2014
Author: Ivan R
Comments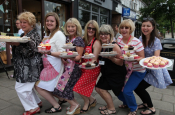 On Saturday 14th June the
2gether
charity shop held a special event on the same day as the Rotary Summer Fair. There were 150 cup cakes for sale - made by Justine Grant - and a large selection of tea cups, crockery, jugs and cup cake themed donated goods for sale. 
£900 was raised at this whole day event with the profits going to youth charity Chislehurst YFC who employ 3 full time youth workers to work with teenagers locally.
Clare Herriot,
2gether
Shop Manager said: "We had saved cup cake themed goods for months and set everything up the night before. The shop looked lovely and there was quite a buzz amongst the volunteers who wore special aprons and sold the cakes and crockery. When Duncan Raban arrived it was such a lot of fun. We all had to carry plates of cup cakes and he managed to make us laugh in all of the pictures - he is a true genius when it comes to bringing out the sparkle in those who he photographs.
We also chose to have our event on the same day as the Rotary Summer Fair - such a great opportunity to bring the High Street to life and encourage the visitors to shop in the High Street as well as supporting the fair. Thank you to all my team of volunteers, the customers who donated and bought on the day and of course my Assistant Manager, Sue Smith, who is my rock!"