Lights, Camera, Fashion: 2gether charity shop celebrates 10th anniversary
22nd October 2014
Author: Ivan R
Comments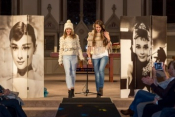 The hottest ticket in town last Thursday was for the 10th anniversary fashion show hosted by Chislehurst's 2gether charity shop, writes guest blogger Gwen

Lardner

.
We're not talking piles of unwanted jumble on tables; this was a professionally choreographed show showcasing high-end designer clothes and vintage treasures for the discerning shopper. Little wonder that ticket holders were willing to pay the £10 ticket price and were queuing well before the doors opened to try and get front row seats. 
The team at 2gether, with manager Clare Herriot at the helm, worked tirelessly to put on the sellout event, staged at Christ Church in Chislehurst with an impressively large catwalk and professional lighting and sound. 
The catwalk models - ageing from teenage to the more mature - were all volunteers who work in the shop or are part of the youth charity Chislehurst Youth for Christ. Each model sported three different looks, artfully put together to show off the stylish range of clothes and accessories that can typically be found in the shop. All items from the show were on sale afterwards along with other desirable items that had been carefully handpicked for the event. 
Some of the models looked understandably nervous but were able to relax into their choreographed routines as they were cheered on by a hugely supportive crowd of family, friends and fashion lovers. The atmosphere was electric and reflects the level of local goodwill towards the shop. 
2gether is an award winning business known for its welcoming atmosphere and lovingly-organised displays of books, clothes, bric-a-brac and toys; a haven for dedicated shoppers looking for bargains or those wanting a coffee or just some company. Volunteers consider it an honour to work there. All shop proceeds go to the Chislehurst branch of the national christian charity Youth for Christ which supports young people and their families out of the Edge youth centre on the Edgebury estate.
Clare Herriot gave heartfelt thanks to her team of staff for making the event happen. Kate Murdock-Smith, Chair of Chislehurst YFC, also described it as a privilege and a blessing to have the financial support of 2gether to continue the good work of the youth charity in Chislehurst.
The fashion show raised £4,000. Thanks go to jdm estate agents who generously sponsored the event, Matt Freestone for taking all the photographs and Christ Church for allowing 2gether to make use of their venue.