Fairy Godmother visits Demelza Children's Hospice
4th December 2013
... Comments
---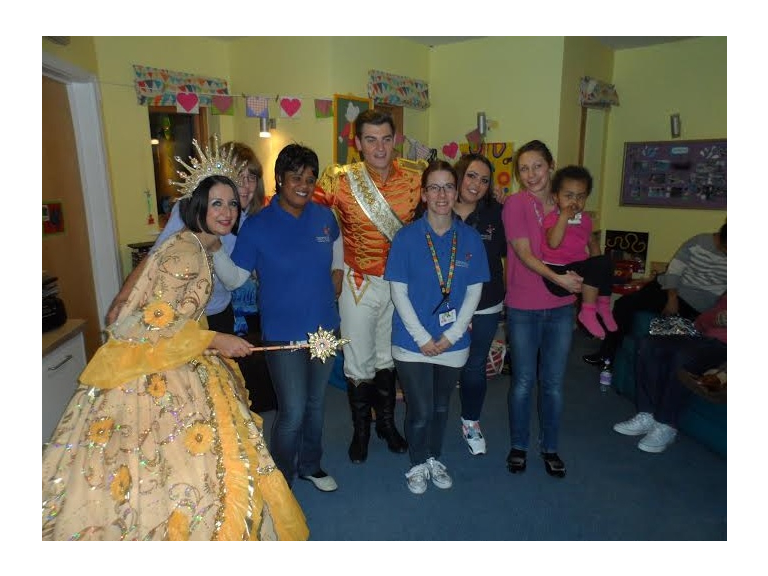 On Tuesday 3 December, Jessica Martin (who plays the part of The Fairy Godmother in this year's Pantomime, Cinderella at The Churchill Theatre, Bromley) paid a visit to The Demelza Children's Hospice in Eltham, taking with her wrapped up gifts that members of the public kindly donated, along with Prince Charming (Matt Lapinskas).
The smiles which radiated from the hospice's poorly youngsters told their own story after the sparkling fairy and dashing Prince turned up in full costume to hand out gifts.
Jessica (who is best known for her television parts in Dr Who and Spitting image) said "It was a very joyful and inspirational visit! It was an absolute pleasure to spend time with these beautiful children. I'm now starting to feel the Christmas spirit!"
Matt and Jessica came straight from the stage from a matinee performance of the show and went directly to the Hospice and brought festive cheer all round. They then returned for their second performance that day which was also The Press Night.
Matt Lapinskas said "It was such a pleasure and privilege to visit Demelza. Every child was delightful and I want to wish every one of them a very Merry Christmas."
Demelza Hospice supports children and young people (0-19) who are not expected to reach adulthood, and offer support to their families. Claire Rogers (From Demelza) said "On behalf of Demelza a huge thank you to The Churchill Theatre and the cast for bringing some panto magic to the children today. They were all delighted with their presents and lit up at the entrance of Prince Charming and the Fairy Godmother!"
The Churchill Theatre have been supporting Demelza Hospice since the summer of 2013 and will continue to do so for the foreseeable future, holding various different fundraising events.
Cinderella continues The Churchill Theatre, Bromley's annual tradition of staging magical, festive pantomimes. Join Cinderella as she tries to escape her Ugly Stepsisters and find her Prince Charming. With glittering sets and costumes, hilarious jokes, bags of audience participation plus a special appearance from the Sensational Shetland ponies, Cinderella is fantastic seasonal fun for the whole family.