2gether smash their 'Summer Late Night' expectations!
22nd May 2013
... Comments
---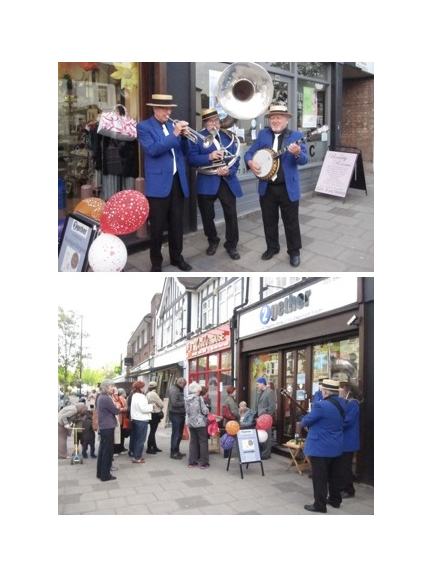 Last week, the award-winning 2gether shop in Chislehurst near Bromley held their 'Summer Late Night'.
The shop has been open almost 9 years and since 2007 these late night events have been held twice a year - customers eagerly await the next one and there is often a queue out the door! The store save extra special seasonal (Summer) clothes and accessories through the year and then prepare the shop with all the gorgeous stock.
Last week it took a team of 5 a full 2 hours to get everything ready. Don Steele came with his Jazz Band to keep everyone entertained. They were fabulous, playing outside as the customers patiently waited for the shop to open at 6pm. Later in the evening 3 children spontaneously began dancing and had never actually seen a Banjo, Trumpet and Sousaphone up close, let alone knew what they were!
The shop was full and after 1.5 hours a staggering £1074 was raised. This was all through the sale of a mass of Summer dresses, bags, shoes and jewellery. (And glassware, books, toys, bikinis….)
Clare Herriot, manager of the store, said 'It was a very successful evening. I could not have done without my team of volunteers, Assistant Manager Sue Smith and of course our generous customers who consistently donate and shop so faithfully.'
Our next late night will be on Thursday 4th October at 6pm ready for the Autumn Collection.
2gether raises money for the charity 'Chislehurst YFC, who continues to work with local young people in the schools, churches and community. The youth centre employs 3 youth workers and runs activities for children aged 8 - 18 throughout the week and in the holidays.
Congratulations to 2gether for such a fantastically successful evening. And don't forget to put the next date, 4 October, in your diary.