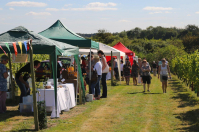 Our big day of the year, and main fund-raiser! Come and find out the story of the medieval vineyard and abbey, why and how the monks made wine, and how we care for the vines all year round. There will be tours, wine tastings, our "pop up" wine school, other local food stalls, BBQ and other refreshments.
Entrance Adults £3, children free. Pay on entry.
The vineyard, near Old Warden, is now run as a community and education project by Bedfordshire Rural Communities Charity and cared for year round by volunteers. The Open Day is organised by the Friends of Warden Abbey Vineyard. For more information and directions see www.wardenvineyard.org.uk
Free parking, tastings. Additional charges for tours and wine school.
*thebestof cannot be held responsible for any changes, amends or cancellations of an event
Contact us: 07981 113714

visit us

Warden Abbey Vineyard
off Bedford Road
Old Warden
Bedfordshire
SG18 9LS

find us on facebook