Walk And Draw Bath
14th March 2013
... Comments
---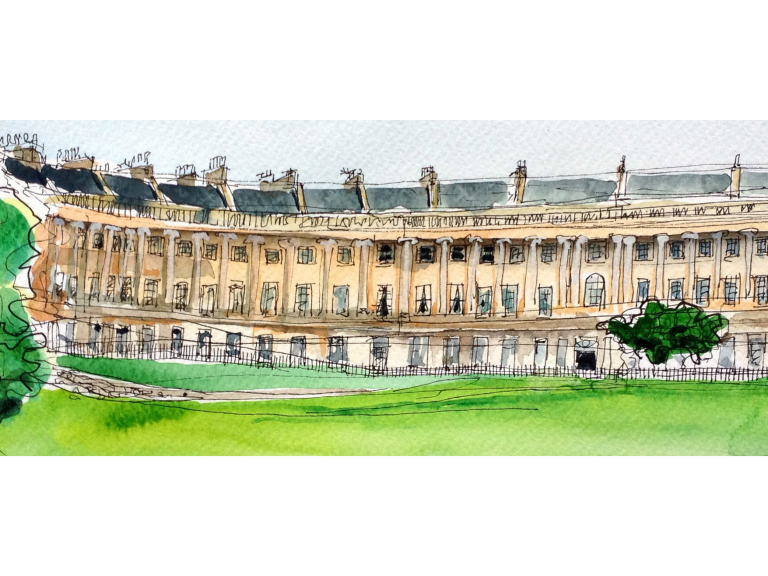 WalkAndDrawBath Announces Launch Event

The launch event for WalkAndDrawBath is to be held be at Mangia Bene Deli Café, 5-6 St James's St, Bath, Avon BA1 2TW, on Wednesday 20th March from 6:30 until 8pm.

This is a chance for press and prospective clients to meet Andrew Lansley, to see examples of his work and catch a flavour of what WalkAndDrawBath is about.

WalkAndDrawBath is a new interactive experience, designed to enrich your experience of Bath. With WalkAndDrawBath you will get to explore Bath's famous and lesser known streets and passageways and to draw and record your experience. It is a social activity experience designed to suit all levels of ability. Couples, families, individuals or groups are all welcome.

What is the inspiration for WalkAndDrawBath?
'Bath is the city of my childhood,' says Andrew Lansley, '...and, WalkAndDrawBath is about sharing my passion for for this lovely and lively place. I want to create an experience that is about quality of interaction with this amazing environment of marvelous architecture and scenery. It is also a chance for people to enjoy a social, creative and therapeutic activity,with the aim of relaxation and slowing down the pace of a hectic life.'

What is your aim for WalkAndDrawBath?
'My aim is to make Bath a place where enjoyment of drawing is accepted as a natural part of the pulse of the city. I hope visitors will say, 'When you go to Bath, you have to do the WalkAndDraw thing'. I also hope that by connecting up with café's and restaurants, that WalkAndDrawBath will become a strong brand associated with visual and social creative enterprise that promotes the city and reinforces it's identity as a leading visual and cultural World Heritage Site'.

What does the day look like?
We meet to discuss the day's activity over a congenial sip of coffee before heading out to draw! We may visit The Royal Crescent and Circus, or an explore Guinea Lane and Walcot. A more energetic group might choose to walk up to Alexandra Park or Camden Crescent for a grander panoramic experience. After exploring and walking and drawing for a couple of hours (or three) the group retires for a delicious lunch and conversation about the day's experience. All that will hopefully leave you feeling the kind of satisfaction and good humour that you get when you've enjoyed a good walk in pleasant company and surroundings whilst indulging in something creative.

What is included?
Coffee at the start of the day is included.
Lunch is payable separately. The fixed price lunch menu at Martini restaurant in George Street will cost about £10, but of course, you have their whole menu at your disposal should you wish to indulge yourself. Wine and other drinks are extra too. All art materials are provided, including artist quality pens, pencils, watercolour, brushes and paper. As a souvenir, you get to keep your own A3 WalkAndDrawBath sketchbook. It is probably the coolest thing you'll get to take away from Bath.

Where to meet?
We will meet at either Mangia Bene Deli Café, St James' Square, which is immediately behind the Royal Crescent Hotel, or Society Café, Kingsmead Square is in the center of the town. Please call Andrew directly on the day to confirm meeting place.How much does it cost?

Tickets
Tickets go on sale at The Bath Visitor Centre from Wednesday 20th March. The price is £35 per adult. A family ticket for two adults and two children is just £85. An adult with one child is just £50. All under 18's must be accompanied by a supervising adult. You will need to be moderately fit to get the most out of this experience.

Opening times
WalkAndDrawBath will operate Saturday to Wednesday in term time and Fridays also in school holidays. Times: 1000 - 1400 weekdays 1100 - 1500 weekends

WalkAndDrawBath is led by Andrew Lansley; an artist and educator with over twenty years experience in Photography and Fine Art. Recent works are currently exhibited at the Great Atlantic Gallery, Falmouth. He is also currently engaged at the Royal United Hospital, where, as an Artist in Residence, he is working on a number of concurrent projects. For more information about Andrew's work, including commissions, exhibitions and other upcoming projects and events, please explore his website. Works are for sale where available.