The weather may have been bad but the fishing was awesome at Century Ponds!
16th September 2013
... Comments
---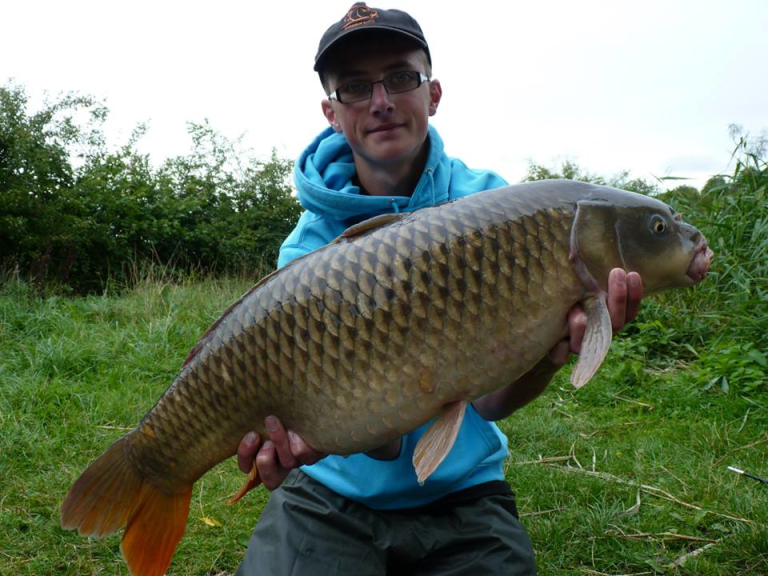 Hey everyone its Luke here, On Sunday 15th September I had a session at Century Ponds. It was a little social, I met a couple of my mates down there, Jak Carley & Connor Perry. I arrived just after 9 as the session was a bit unexpected. We agreed that we would have a little friendly competition. The prizes were for "Biggest Fish" and "Most Fish". I went on one of my favourite pegs on Century's Carp Lake peg 6! I have had a lot of success from this peg lately so I was hoping the same thing was going to happen again. One of the first things I did was set up the bivy as according to the weather forecast it looked like it was going to be a wet and windy day.
Despite this bad weather I had no doubts that it was going to be a good day. I was fully set up by 9:30 with both rods out on Supreme Orange & Aniseed with a PVA bag of Supreme's mixed pellet. It wasn't long after I casted out I had my first fish, it was only a little 2lb common so I didn't bother taking a picture of it. Shortly after Connor caught a 14.5lb Mirror Carp (which unfortunately I don't have a pic of.) So, Connor was now in the lead, I was determined to beat him!! After thinking tactically in my bivy for 5 minutes I came out with a freshly tied rig with a new Supreme Boilie I'm currently testing. From experience I know this bait singles out the bigger fish. I said to the lads "I know for a fact that this bait singles out the bigger fish and they can't resist it." Connor just laughed. So I was determined to catch something big just to prove him wrong! After 10 minutes it shot off! At first it didn't feel like anything big, but once we got it close to the net it started putting up a right scrap. We landed the fish and it was huge!
This 16lb 8oz is also known as the "The Long Common" and is only caught a handful of times every year. As you can see by the smile on my face I was chuffed with this fish! I had full faith in the new bait and it did me and the team back at Supreme Baits proud! So now I'm winning this little friendly match with "Biggest Fish" and "Most Fish". But could I stay in the lead? Here are some of the fish we caught on the session:
Overall it was an awesome session and it was great fun fishing with my mates. We had the whole lake to ourselves and Jak and I had a double take towards the end. I won the competition overall. :)
Until the next time, Tight Lines Luke