The Quest For The Winter 20+ Achieved on Hunstrete Lake!
14th March 2014
... Comments
---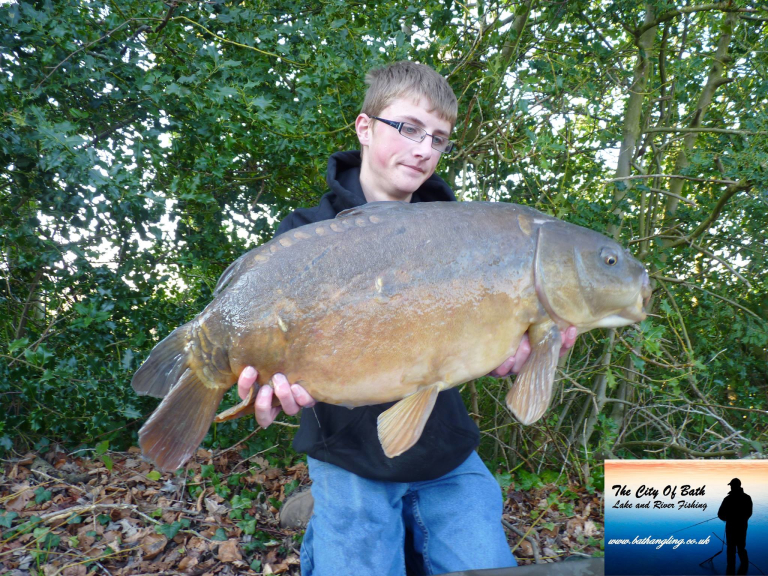 Well, from the title I suppose you can guess what that means! Luke caught his first fish off Hunstrete Lake on Sunday! After well over 18 blanks finally a Carp has been landed! On Sunday both Riki and I went fishing on the Hunstrete Complex. We decided that in the morning we were going to fish one of the easier waters and move onto our target water of 2014 in the afternoon. We arrived at 9am and soon discovered after unloading the car that I had forgot to pack the chairs... Which meant it was a day of standing up ahead of us! After having a quick walk around a busy Withy Pool, we decided to set up on some pegs that we have never fished before. For anyone that knows the lake it was on the car park side by the aerator.
After fishing for about 45 minutes, I just wasnt feeling it... Its very rare that I get this feeling, so we moved up onto Bridge Pool onto pegs 17 & 18. I had a bit more confidence here and I managed to catch a little 9lb mirror carp after a hour. Things then went quite again, our friends Jak & Jacob came over for a chat. We chatted for a good hour (Like us anglers do!) and with that we went for a walk around Main Lake. Our friend Jacob was fishing on there and we decided that we would join him for a few hours in the afternoon. So at 2pm we moved over onto Main Lake.
I was fishing Peg 9, Jacob was in peg 8 and Riki was in peg 7. After 15 minutes of casting out Riki had a screamer of a run! He picked up into it and felt a fish but after about 10 seconds unfortunately it came off... Gutter!! We thought that was all the action we were going to see for the day, but how wrong could we be! At about 3:30pm I had a couple of beeps on my alarm, and then all of a sudden line started peeling off my reel and my tip was bent right round! I picked up into it and I was on! At this moment I had jelly legs and was starting shake with nervousness because I knew how important this fish meant to me. I had put well over 18 session in and this was my first proper fish on. I played the fish for a couple of minutes and with the great netting skills of Jacob we got it in the net!!!! Boyahhh!! My first fish from Hunstrete Lake was in the net! At first glance I thought that it looked pretty small, but when we lifted the net up, the width of the fish spoke for itself! Here its is, a new personal best for me at 21lb 10oz! For me it was more about having the privilege of catching a fish from this historical hard water than the weight! Lets hope for a few more fish to come this year!
Now the big question is, does this mean we have completed "The Quest For The Winter 20+"? Well to be honest im not sure, I would like to think that we are now in spring. But according to Google the winter of 2014 ends:
So that means we have completed "The Quest For The Winter 20+"! With only a few days to spare! See you on the bank sometime, Luke!