"The Children's Challenge" launched by Bath Rugby Players
30th August 2013
... Comments
---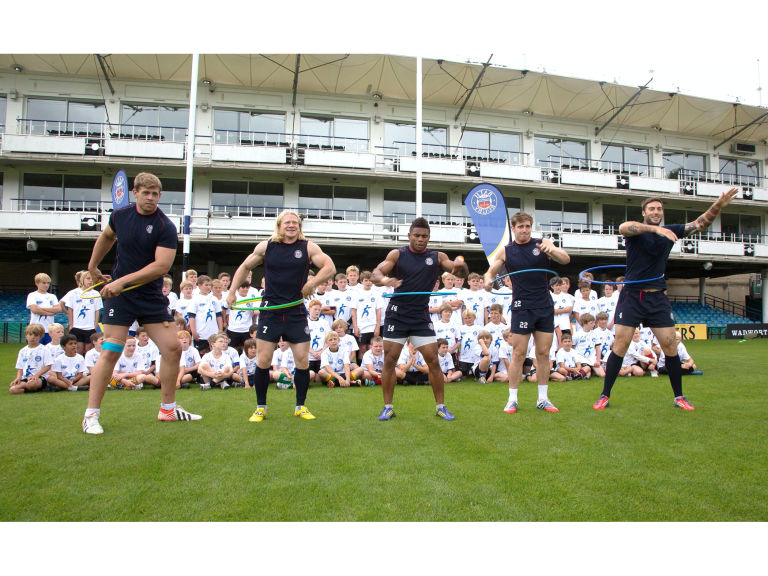 Bath Rugby has launched a new initiative to inspire more children in the local community to lead fitter, healthier and more active lifestyles. 
The Bath Rugby Children's Challenge is a set of fitness challenges created by the players aimed at girls and boys, aged up to 15 years.   Members of the squad have set targets for the children to reach and have also taken part in the challenges so that the children can benchmark their results against them.  The challenge is part of a wider Bath Rugby initiative which sees the launch of a new Junior Membership Club. 
Mike Ford, Head Coach at Bath Rugby hopes to inspire as many as 10,000 children to get involved with the initiative in the first year and said "As a Club we are very much involved with the local community.  While we rely on the fans supporting us on a match day we also like to give back and support the community either by fundraising or by lending a helping hand where needed.  Children all over the UK need encouragement and outlets like this if we are to steer them away from a culture that revolves around the TV and the sofa!  We see this initiative as a key part of Bath Rugby's legacy to help inspire children in our local communities and that is why we have launched our Junior Membership Club.  We are passionate about increasing our engagement with kids all over the region and helping them to be active."
Ford added "The players are very much behind the challenges and have chosen some non-rugby related ones to appeal to girls and boys of all ages and interests. The keepie-uppies one is my personal favourite, some of the players find this really hard and certainly need the practise."
The Bath Rugby Children's challenges are:-
Take the Kyle Eastmond quick  feet challenge


 
Participation in the Bath Rugby Children's Challenge is free.  Children should register online at www.bathrugby.com/fans/jmc    to become member of Bath Rugby's new Junior Membership Club. The challenges will be set up on the Recreation Ground in the outfield at each home game throughout the season. Spot prizes will be awarded for effort and a leader board maintained throughout the season.